Still here. Still pregnant. Still snow on the ground in the middle of March.
I wish I had a really cool excuse as to why I suck at updating every week about life & pregnancy--but, the truth is that our computer is located next to a sliding glass door and it's just really cold when you sit over here. So, um..yes. That's why I've been a big fat failure at blogging. Also, Adam is home approximately 30 seconds every week which leaves me with the Drama Baby who apparently tells everyone she meets the she "loves beer" so I'm basically just trying to not kill either one of us.
That's my life these days, y'all! Just a lot of explaining everywhere we go and then also a lot of crying because I am just so daggum cold.
But, don't fear--I am here to do a 25 week update because HOLY HANNAH MONTANA I'm 25 weeks pregnant tomorrow! Why does the 2nd pregnancy go by so fast?
Also, Kate is back. You don't even want to know what my face looks like today. Also, somebody please tell Kate to tan her face to match her body, and for Heaven's sake get rid of the camera remote! What a Trashy McTrasherson she is!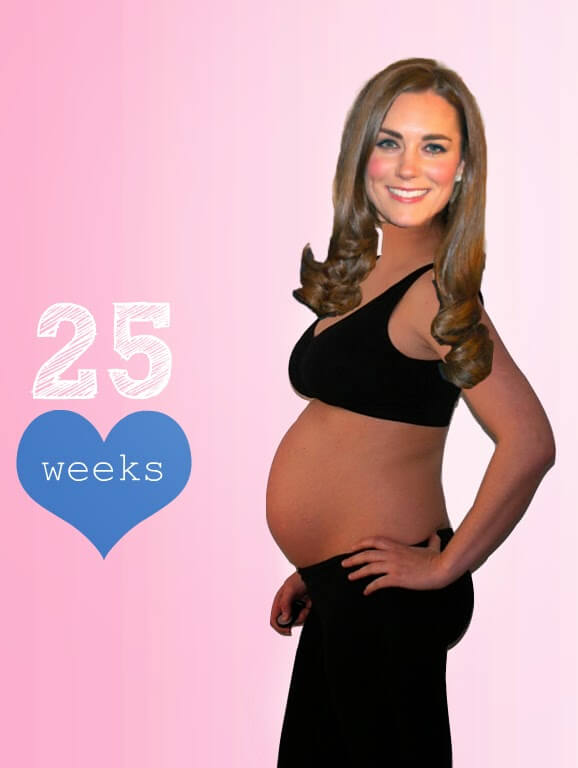 Around 9 inches long and about 1.5lbs. My midwife said I'm measuring big though, so that's just great.
I think I'm up around 10 lbs so far. I go to the doctor on Wednesday (I think) and will find out then! I eat everything in sight so it should be no
surprise if I'm 400 lbs by the end of this gig. Today, Adam told me that he didn't care if I spent all the money in our bank account at Whole Foods, but by God I better stop eating Taco Bell. Womp Womp.
During our trip to Alabama my Step Mom and I basically bought out the maternity section at H&M. Mainly just the tops/shirt section though because my Sister In Law gave me about 12 pairs of maternity jeans/pants. Not even kidding--skinny jeans in every color and the most non-Mom looking blue jeans in almost every size!
Still a girl--I guess! We haven't had another ultrasound, so I'm really hoping that ultrasound tech was
right on the money when we checked ;)
All the time! We are entering the "let me see how many ribs my unborn child can break" stage of the pregnancy, but I'm trying to enjoy every little movement and kick--that's what I missed the most after I had Presley!
So SO good lately! Most nights I don't even have to get up to use the bathroom! WORD BIG BIRD!
Being able to bend over, the occasional glass of wine/cold beer, breathing...you know, everyday stuff that's a little more difficult to do when you have a volleyball for a stomach!
Nothing in particular. Basically, if it's in my view I will eat it. So, what out if you see me--I may eat you and your children.
Just heart burn!
I can't really pin point just one good thing that has happened. It's been going great lately! Now, if you'd like to talk about the Drama Baby--then that's a WHOLE different story! Wowzas!
Well, that's all I have for this update! Let's keep this thang going every week from now on, mmkay?