I feel like it has been forever since I have posted a blog, oh wait...it has!! I have had a lot going on lately! After Adam left Tuscaloosa all of the craziness began! I had to lucky privilege to be the chosen one to take my nephew to get his shots for Kindergarten. He has been in school for a while but had to re-schedule the previous appointment that he had in July because he went to Las Vegas ( I didn't even get to go there until I was 21 years old, and he went when he was 5! LUCKY). So on the day that I took him, I went to his school to check him out, and he asked why I was there and I told him he was going to the doctor so he could check to see if he was growing properly or not. I expected him to immediately fall to pieces and start crying, but surprisingly he got right in the car. I mean, I am 22 years old and I still hate the doctor, so this shocked me. The only request that he had before we went inside was that everything that the doctor had to check, I had to get done first. That's fine. So we go in and get checked in and then they call us to the back. The first thing that the nurse wanted to do was measure the weight and height of him. But wait, I had to go first. So she measured me ( 5'3" thank you very much) and then told me to step on the scale..NO THANK YOU! I said ," that won't be necessary." :) Then Hunter got measure and she weighed him (he weighs a whopping 50 lbs. and he was 3'11" ). After all of that was done we went into the room and did all of the other stuff. This was all interupted by Hunter having to poop, and if you don't know this, he takes FOREVER!!!!! By the time he was done takin care of business my brother had gotten there, so he was the one that broke the news to Hunter about him getting his shots..he was not excited about that at all! He had to get 4 shots, so that's a little more difficult to do when I am the one having to hold him down, but thankfully the nurse was extremely fast and just poked him in both arms and then 2 in one leg. He was fine after they gave him a coupon for free ice cream to TCBY. Then we left!..I think I forgot to mention that the doctor said that he was over weight, which I thought was really funny considering before school started he weighted 55 lbs. so technically he was already losing weight!
For the rest of my time in AL I just hung out with my fam and ate extremely too much food. I went and ate lunch with Hunter at school a few times when I was there, so that was fun. One of the other days my Mama and I went to eat at a realllllllllly tasty restaurant called Cypress Inn, it's our favorite. Then after that we went and saw the movie My Best Friends Girl. It has Kate Hudson, Dane Cook, and Jason Biggs in it. It was good but the previews are NOTHING like what the real movie is about! But it was fun to get to hang out with my Mom for the day!
I had originally planned to come to FL on the 22nd. But when Adam called me with the big news about going to the Dominican, those plans changed! On Monday the 22nd I went and saw my Dad in Huntsville and we hung out! We went to eat at the BEST steak house I have ever been to, and I have been to a lot of steakhouses. It was called Connors, so if you ever see one, I highly suggest that you go and eat their steak!! After we ate he took me shopping, I had to get some more tank tops and stuff since it will be so warm when we are there! ;) After I left my Dads on Tuesday I then went back to Tuscaloosa (it's about 2 1/2 hours from Huntsville to Tuscaloosa) and I had to go back through all of the stuff that I had already packed to bring to FL when we thought we were going to be here for the whole off season. That meant that I had to eliminate over half of the stuff I was bringing, which was good because when I went back through it I realized that I was bringing a ridiculous amount of things that weren't necessary. Then on Wednesday I packed all of my suit cases in my car and left Tuscaloosa and headed to my Aunt Rah Rah's house. She lives in Mary Esther, FL (near Ft Walton). We went and got pedicures on Thursday, I LOVE getting those! I stayed there until Friday morning. And now I am FINALLY in Sarasota!! During my trip from My Aunts to here I stopped in Tallahassee and saw my Grandparents..it was a quick visit but it was nice to see them!
Since being here we haven't really done too much. Last night after I unloaded my things Adam and I went to Outback then just went back to the house! I was exhausted so I went to sleep! Then today I woke up and went to the tanning bed, I have to get a good base tan before going to the Dominican! After that we went to Wal Mart and got another fishing pole so we could go fishing. We went to a little pond over by his parents house and fished for a while. The only thing I caught was the sea weed looking mucky stuff, and a tree limb. Adam caught a fish the second time he casted his pole thingy out. Obviously, fishing isn't my thing. I went back into the house when I started sweating. So Adam stayed out there and kept fishing while I ordered a Domino's pizza. I called him when it got here and he came and ate...then went back out to fish. How exciting...
The Alabama vs Georgia game is on tonight so we are just planning on watching that. It is probably one of the biggest games we play all season so it should be a really good game to watch. All of the Georgia fans are calling it "The Blackout" because their team is wearing their black uniforms, which have only ever been worn one other time. Lets just hope that John Parker Wilson can complete his passes, you never know with him!
I hope that everyone is doing alright! We will keep everyone posted on our trip to the Dominican!!!
-Lindsay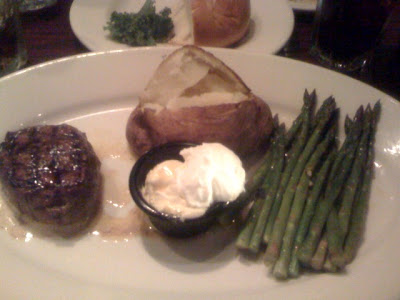 MY YUMMY MEAL AT CONNORS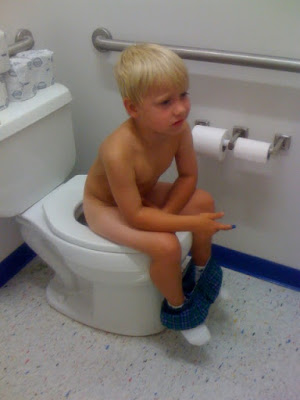 HUNTER DROPPIN THE KIDS OFF AT THE DOCTOR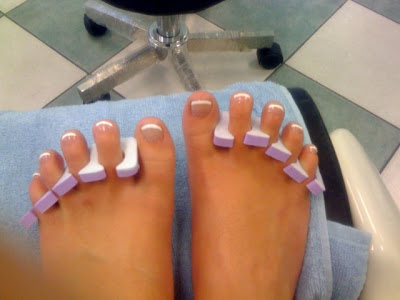 MY PRETTY FRESHLY PAINTED TOES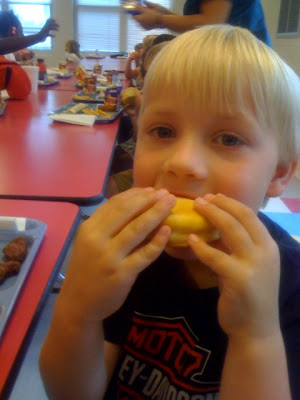 HUNTER AT LUNCH