I figured I would get on here and write a blog since I haven't in a while. It has been over a week since I have been down in minor league camp. Everything is going nice and smooth down so far. Most of the games we are playing with other big league guys who are down getting more at bats or pitching some extra innings. Our line ups every day for the Triple-A team is pretty much a big league line up. Today we faced the #1 Milwaukee Brewers big league starting pitcher,
Yovani Gallardo
. I played the first 6 innings at Shortstop and had 2 at bats off of him, I walked and then hit a hard ground ball to third base for an out. I felt good in the box against him, and that's all that matters right now in the Spring.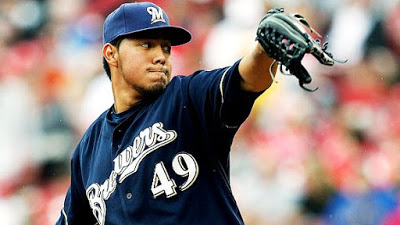 Yovani Gallardo, Brewers

Yesterday, we played the Giants triple-A team and they brought down their #1 big league starting pitcher,
Tim Lincecum
...by the way, he is the best pitcher in all of baseball as of right now. He holds the National League Cy Young award from last year. I played second base for all 9 innings had 2 at bats off of him, I got a base hit up the middle and a strike-out. He is one of the most impressive pitchers I have seen, he throws a mid 90's fastball and has really good control of his curveball, change up, and split finger. Just for kicks, he will cut his fastball a little to the right at around 92 MPH. Out on the mound he looks like a high school pitcher because of how tiny he is, but he sure is nasty.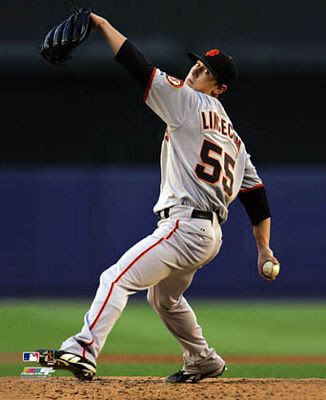 Tim Lincecum, Giants

Its been a really fun spring so far. Sometimes these days can be exhausting but for the most part they haven't been bad. Staying healthy and getting your work in is what everyone wants to do right now. Yeah, some guys are battling for spots on different rosters (major league roster, triple-A roster, etc) and that causes a lot of in-team competition but everybody keeps it pretty fun. I've also been able to put together quality at bats in most of the games and that is always a good sign during spring training. It shows me that all the batting practice and cage work is heading me in the right direction for the season. Since being sent down from major league camp we are making plans for Salt Lake City again (triple-A). There just isn't any room on the major league roster right now. The Angels have all these young prospects coming up in the minors but they keep going out and signing good major league players. That leaves no chance for any of us to make a push into the big leagues. But, all of that is out of my control and all I'm doing is making sure I'm ready to play at the best of my abilities.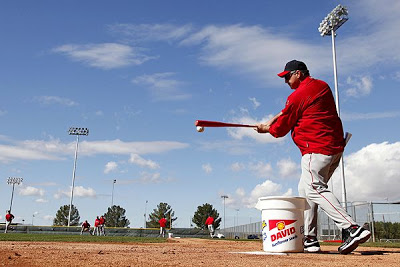 Thats our big league manager Mike Scioscia hitting us some ground balls during practice.
I found a web page where somebody had taken a picture of me hitting a double against the Colorado Rockies a few weeks ago.
click here.
I'll have some more stuff for you in a few days.
Adam