Well, folks, we are back from our vacation in Michigan and I am proud to say that no husbands or toddlers were harmed on the 14+ hour drive! Actually, Presley was nearly perfect during the treacherous drive up north and was equally as good (if not better) on the way back down to the dirrty south! This trip was much needed--for all of us. We even got to bring along my Mom who was in desperate need of a vacation from all of the animal rescue she has been doing!
Our trip started bright and early the morning of July 11th. Adam brought down all of our luggage while I meticulously packed it into the trunk. (We took my Mom's Toyota Camry since it gets much better gas mileage than our Yukon.) I get a little anal when it comes to stuffing luggage into vehicles (I get it from my Dad) so it's usually best to leave this task up to me. We stopped for breakfast and coffee then were on the road by 9:00am--I think. We stopped every now and then to let Presley stretch her legs, change her diaper and grab some food but for the most part Presley just chilled in her car seat with the iPad, DVD player, iPhone and books! I don't even want to know how traveling goes without technology.
We split the drive up in to 2 days on the way up there. We made it to Ft. Wayne, IN around dinner time and stopped at Cracker Barrel for dinner. Right next door was a very ghetto Motel 8 and a semi-ghetto Econolodge. We opted for the latter, carried our luggage into our musty hotel room and hit the sack. This was Presley's first time EVER to sleep in the bed with one of us. To my surprise she slept like a log and Adam didn't roll over and smother her in her sleep. A "Win, Win" y'all!
We hit up the continental breakfast the next morning and finished up the rest of the drive. We made it to Suttons Bay, MI and were greeted by Adams family. They were all so excited to see Presley!
And for the next 7 days we were in full fledged "vacation mode." I'm talking no make up, yoga pants and t-shirts, hanging by the water, walking downtown and having no worries in the world!
It. Was. Awesome.
Adams Mom and Aunt Vickie cooked dinner almost every night and it was fabulous! We were totally spoiled! Monday we held a little birthday celebration for PDizzle and she was such a ham. Later on I will upload some of the videos from her opening up her gifts but just trust me when I say that girlfriend loves opening up cards with the ca$h money money! It was hilarious!
Adam and I did take my Mom up to Sleeping Bear Dunes. It was perfect because we left Presley with everyone else at the farm and they had a chance to get some one-on-one time with her!
I had planned on getting some decent family photos of Adam, Presley and I but considering I didn't wear make up for almost an entire week--it didn't happen. And no amount of photo shop can fix what was going on in my face regions.
Sorry!
We had such a nice time catching up with everyone and enjoying the farm house. It's fun learning more about the history of the home and looking at all of the old (creepy) pictures. It's so relaxing at the farm. The house is right on the water and if you didn't know you were across the bridge from Canada you'd think you were somewhere in the Caribbean. The water is crystal-clear and the pretties shades of blue! I'm not really sure why we ever headed south for vacations :)
And now, I bombard your screen with pictures. You're welcome!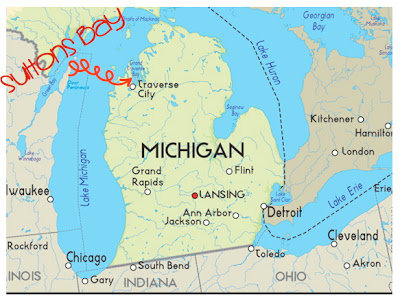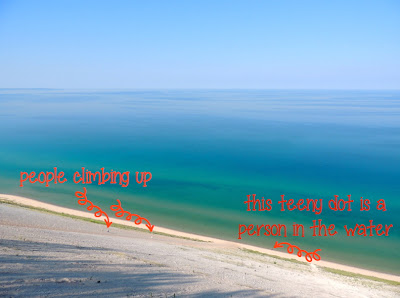 Sleeping Bear Dunes. This is a 450 foot hill down to the water. It's breathtakingly beautiful!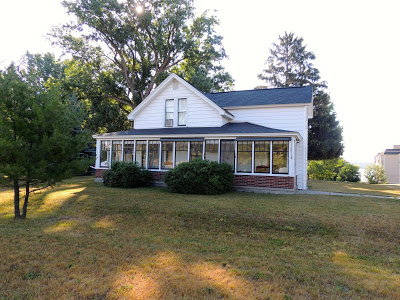 front of the farm house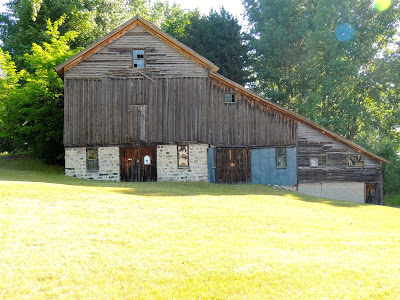 old barn--on the way down to the beach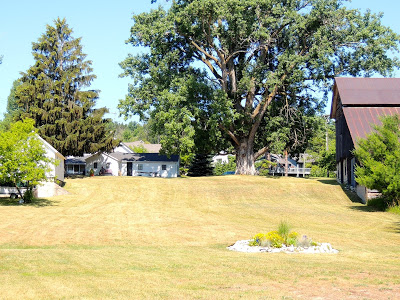 looking up to the house from the beach (barn is on the right)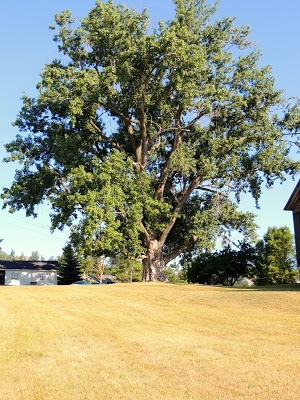 ginormous tree that is SO old and beautiful!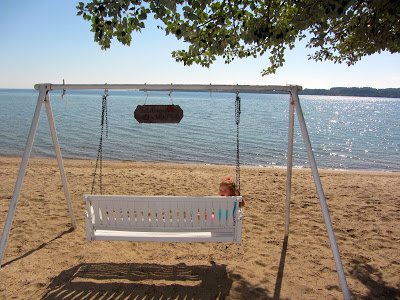 "sit long, talk much"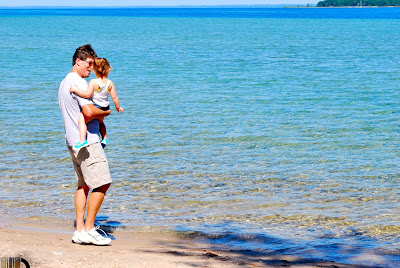 throwing rocks with Papa!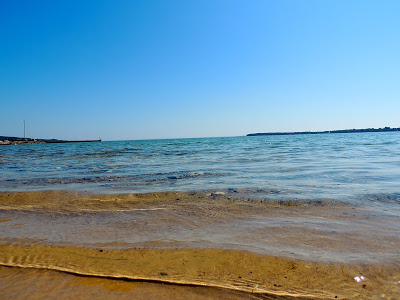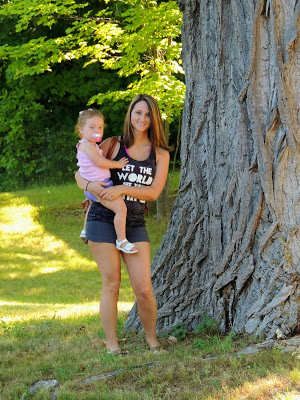 vacay attire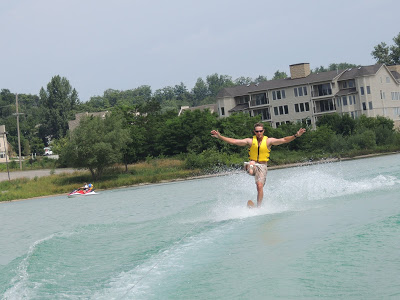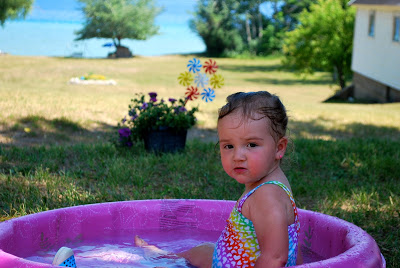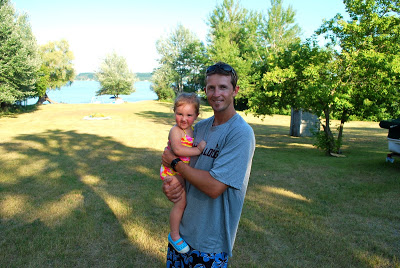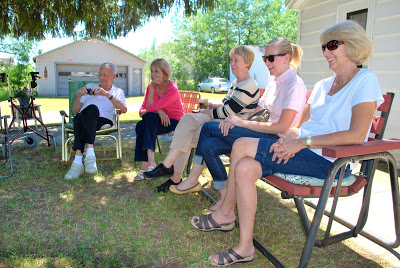 family!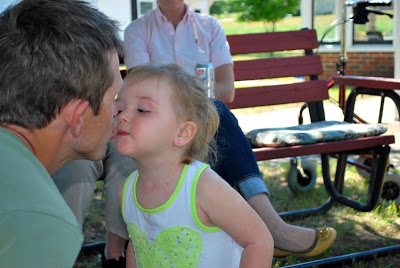 smooches for Daddy :)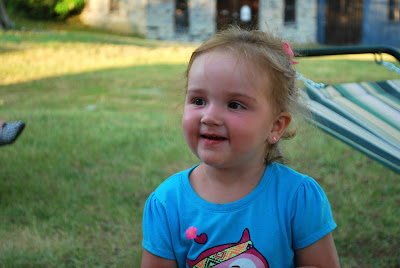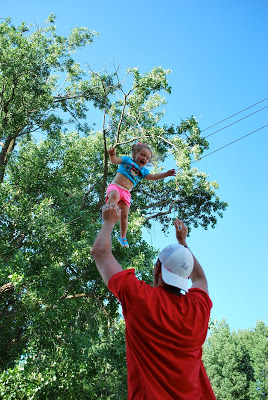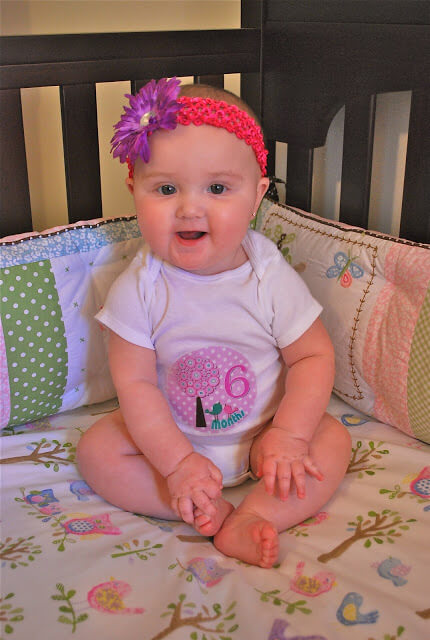 Adam & Grandpa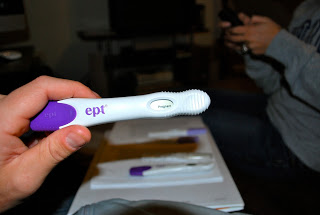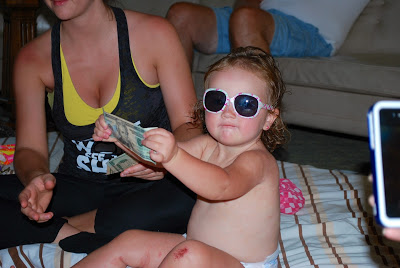 dolla dolla bills, y'all!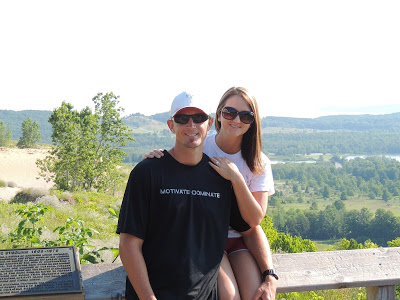 on the way up to the dunes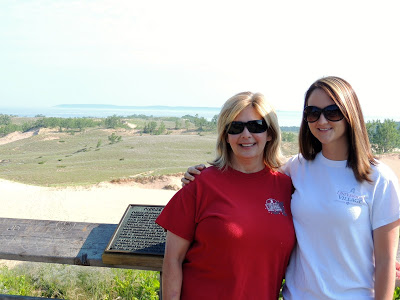 My Mama and I :)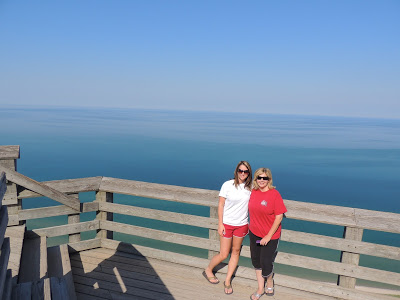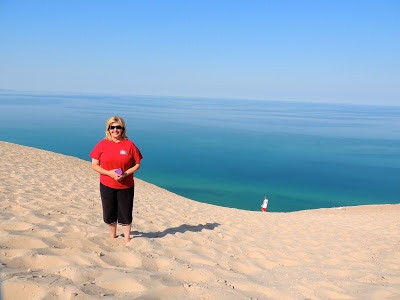 We are already looking forward to our trip back up to Michigan next summer!