OK this title isn't exactly what I would call accurate. 1) We didn't party. 2) Because it's not my birthday anymore. But oh well! I had a GREAT birthday yesterday! I woke up to the kitchen decorated with birthday stuff, a really cute card, and an ice cream cake..Mmmmm Mmmmm! I started my day off by eating left over PF Changs for breakfast (calories don't count on birthdays...just so you know). Some of you might be thinking,'PF Changs?? For breakfast??' Yes, but it was 10 am..so it's not like I was eating honey chicken and rice at 6:00 am. OK, anyways...then I cleaned house and got ready for the game. BUT..on the way to the game I stopped by In-N-Out (burger place) and chowed down a greasy cheeseburger and fries! I was realllllly going to take advantage of my day off of eating healthy. After the game Adam, Terry, and I were headed to the Chris Tomlin concert in Glendale! Chris Tomlin is a famous Christian singer and Terry is friends with the assistant tour manager for Chris so he got free tickets and we even got to go backstage before it started and meet Chris! He stayed around and talked to us for a few minutes then we went to our seats! We were on the ground level, 9 rows from the stage! They were awesome! The opening show was a guy names Israel Houghton, and we was amazing! We didn't think he would be that entertaining but he was great! The whole concert was such a blast, it was just an entire coliseum filled with all of us praising God and singing our hearts out!
Adam got in the game yesterday around the 7th inning. He got one at bat but popped out. The pitcher he faced was brutal, though. He throws at or over 100 MPH. Adam said he faced him in the Dominican so he knew it wouldn't be too pretty. Today they are playing on the road, which is only about 30 minutes away, but I'm not going. I am going to hang out by the pool for a while, and maybe go by the mall :) I hope Adam gets to play today but if they are going by the same "schedule" they have done so far, then he won't get in today. We will see though!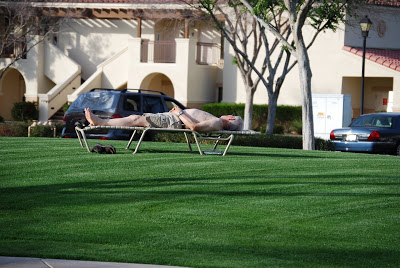 This is just a random picture of a guy getting some sun..we thought it was funny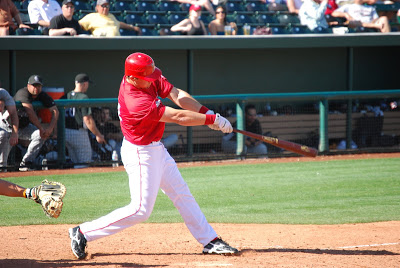 Yesterdays game against the Rockies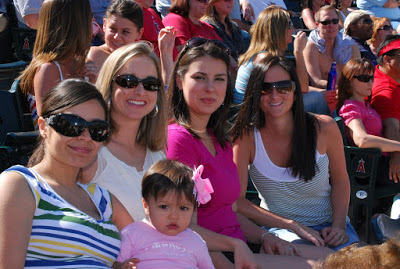 Some of the girls.