Yesterday I made the drive down to Montgomery with a goal to shop until I dropped! I also stopped to visit with my Grandmother!
My Aunt DJ (dads sister) is a manager of the big consignment sales and I got to go in to do some early shopping before it opened up to the public. Tuscaloosa locals: it's just like the Little Lambs & Children's Closet. I have never gone to any of the sales in Tuscaloosa because I refuse to fight a crowd. But, since DJ is VIP then I had the entire building to myself and I must say, it was heavenly. Hot, but heavenly.
There were rack and racks, rows and rows, tables and tables, shelves and shelves of every single baby item you could ever imagine in the huge warehouse. Clothes, shoes, pajamas, bottles, cups, toys, books, movies, nursery bedding and decor, furniture, car seats, strollers, high chairs, swings GALORE.
I honestly don't think I will ever buy anything brand new after seeing how good of a deal you can get at these sales. Most of the stuff looked brand new. CUH-RAY-ZAY! I went with the intentions of just getting Presley's Fall/Winter wardrobe, but when I saw all the other things they had I kind of ventured off course. I had a $100 budget and at the end of it all I spent a total of $107.32.
ZING!
Lemme just tell you what all I got!
(DJ also bought her a ton a stuff which I'm also including in this list, although I'm not sure how much money she spent)
Here's the list of the goods:
6 outfits(pants w/ matching shirt)
- two of them are Rare Editions holiday outfits and one of them is a
Sweet Tea
outfit, others are Old Navy or Gap.
3 pair of pants/leggings
3 pair of jeans
-all from The Children's Place
12 shirts
-from Old Navy, Gap, The Children's Place, and a few other good name brands. Lots of Halloween and Christmas shirts!
5 pajama sets
-from The Children's Place and Old Navy
2 dresses
-not sure of the brand but one is a corduroy Christmas dress
2 pairs of shoes
-one pair of brand new Converse and one pair of brand new "Uggs" (not real Uggs)
2 pair of Christmas socks
-they look like MudPie but don't have a tag on them
8 DVD's
-5 Mickey Mouse Clubhouse and 3 Barney
3 pacifier clips
2 Avent sippy cups
1 wooden activity cube
-Um, hi. Do you know how expensive these usually are? I paid 8 bones.
1 huge Batman toy for my nephews Birthday gift
-seriously, it's legit.
Isn't that a crap ton of stuff? I can't even explain to you how expensive that all would've been brand new. And here's the thing about buying clothes for a rapidly growing toddler- they only wear them for a few months! We literally just got Presley a ton of 18 month sized clothes and now she's almost too big for them.
They have these sales twice a year. A Fall/Winter sale and then a Spring/Summer sale. I've already decided to start saving the dough for the next sale. We also have a huge sale down the road from our house here in Birmingham that is open to the public on October 2nd but I'm debating on going. I've officially been spoiled by DJ and don't know if I can handle the crowds, but I think now I'm addicted!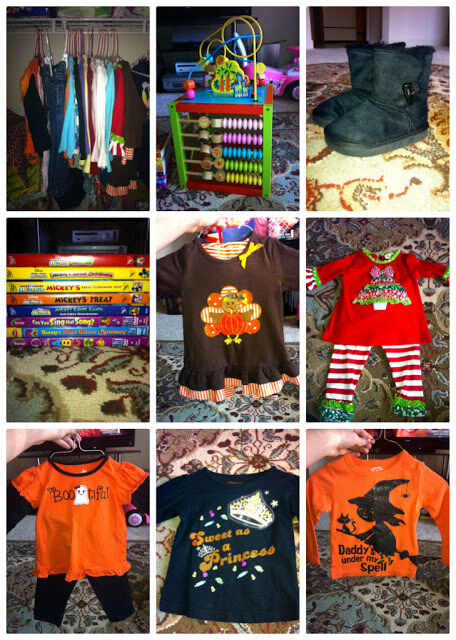 **just a few things we got**