Adam and I started our drive Thursday (Sept 17th) around lunch. We had originally planned to leave on Friday, but when we realized on Thursday that we had nothing to do, we figured we might as well just get on the road, even if we only drive for a little bit! So, we were off! We drove up through the top of Utah, up into Wyoming, part of Iowa, and all the way through Nebraska the first day. There wasn't really much to those states, just farms. I would probably die if I lived in WY or NE. I think we only saw civilization every 2 or 3 hours. I may or may not be exaggerating on this one, but I'm just sayin'. It sucked.
When we drove through Iowa, we had a little interesting event occur...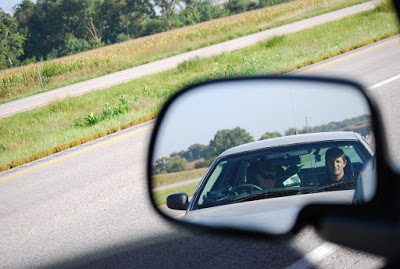 Yes, that is Toasty sitting in a cop car. He pulled us over for going over the speed limit by like, 5 over the speed limit, and because he thought the tint was too dark on the windows. Turns out, when he walked up to the car he saw that it wasn't too dark, it just was SO packed in our car that it made it look darker. I think he felt dumb, so he let us off with a warning. I mean really, we ain't scared of the po-po!!!!
Thank goodness we had plenty of movies to watch! A guy named Rick, who goes to all of the Bee's games, burnt us so many movies! We had a good system going on during the 12-13 hours when we weren't watching movies, which I can assure you is illegal, according to Mr. KnowItAll Adam. When Adam would watch a movie that I wasn't too enthused about, I would just put our handy dandy Bose headphones on and listen to my iPod! I listened to a few Joyce Meyer sermons while Adam watched Young Guns. The best part about using the headphones while we were driving was that when we wanted to sleep (I mean, obviously, whoever the passenger was), whoever was going to sleep could do so in complete silence! Thank you Jesus! Before our brilliant idea of using the headphones, which looked pretty redneck, I would have to try and sleep with the loud music or a movie blaring, but not this time!
We did pretty good on taking turns driving. There were a few times where I would get in "the zone" and just keep driving for a few extra hours. I am almost positive it was all of the Diet Mountain Dew I drank. I think during those 2 days, if you would have cut me open, I would have bled Diet Mtn. Dew, not even kidding. It saved my life.
We finally stopped around midnight in Lincoln, Nebraska. Not much to that place. We stopped at the first hotel we saw because we were only going to be there for a few hours. So, of all the hotels around us, we stopped at The Cobbler Inn. Perfect. It was the most old school, country looking place I've ever seen! It had burgundy carpet with huge flowers on it, as a matter of fact, let me just show you a picture of the decor...in the lobby.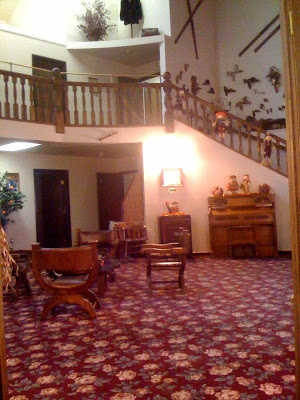 Very interesting, huh?
The beds were actually ah-mazing! We woke up pretty early, ate the free (stale) breakfast and got back on the road. On this day Adam was the one that got "in the zone" and drove for a really long time. Thank you SweetBabyJesus! I wasn't complaining! Friday was a really long day of driving, we were tired! For some reason I kept thinking that Suttons Bay wasn't that far from where we were, so I kept thinking "we're almost there"..but not so much. Apparently I hadn't done my research, I didn't know that Suttons Bay was at the top part of "the glove". I put an arrow of where we were, if it isn't obvious.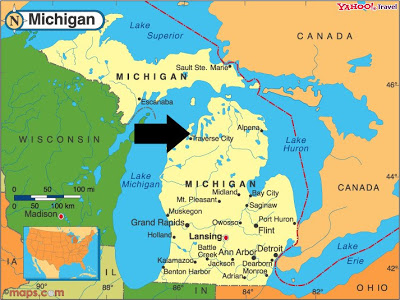 We didn't get there until reallllly late! I have never been so glad to be done driving!
Once we got into Michigan we went straight to Adams Grandpa's condo. It is right across the street from the farm. Since it was late, we decided that we would wait until the next morning to go see the farm. Needless to say, we went straight to bed!
The next morning we woke up, had some breakfast, and headed across the street to the farm .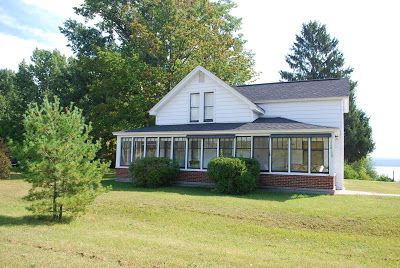 Adam hasn't been there in a while, so it was a lot of fun to be there with him! We were there for a few days, just hanging out! We went to Sleeping Bear Dunes one day, kayaking another day, played cards all day on the farm porch another day, and every night we had a great dinner! One night we went to his Great Aunt Helen's house to look at some old family photo albums..and when I say old, I mean, from the early 1900's! It was nice to see his Grandpa too! Here are a few more pictures...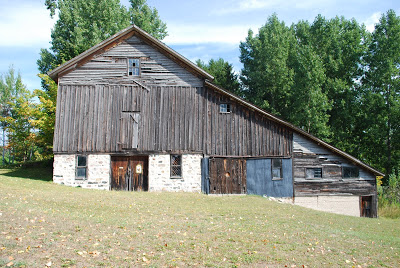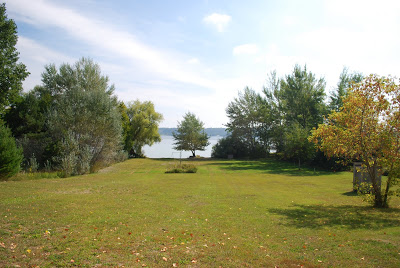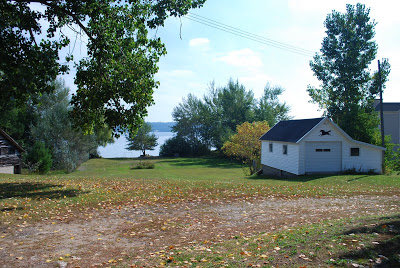 We went to the dunes on the first day, but I am going to have to post about that later, I think this is long enough, I will leave you with a picture though!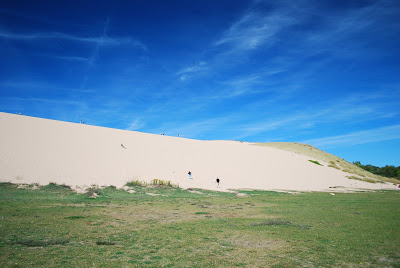 Those dots on the sand, yeah, those are people..this place is huge.