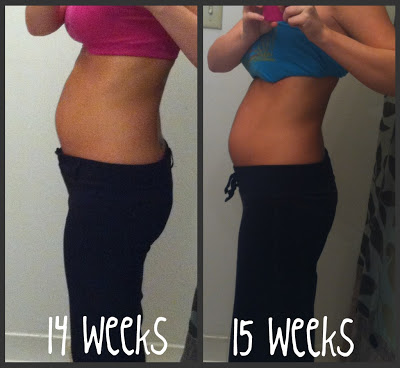 I don't know what happened to week 13. I think I skipped it but honestly I am so tired right now I can't even think about what happened. I do know that I am really late on my 14 weeks post so 14 & 15 are together this week since nothing is really different between the two. Don't judge me and my horrible pregnancy dementia.
How far along?
14 weeks (last week) & 15 weeks (this week)

Total weight gain/loss:
I will find out Monday at our appt. At the last appointment I hadn't gained any weight but I had the flu and lost a few pounds. I've definitely gained weight though. Just ask my Husband. He informed me that my "butt looked pregnant", meaning my arse is getting larger. The NERVE!

Maternity clothes?
Not yet, but I had to cut the elastic out of my leggings last week, which leads me to believe any day now I'm going to need maternity pants!

Sleep:

Definitely need more!

Best moment this week:

Oh gosh, I hate this part. It requires me to think & honestly I can't even remember my name at this point. Hmm, well during my 14th week (remember, I'm posting this a week late) I had a 90 minute massage at a super nice spa here in T-Town!

Movement: I thought I felt something, turns out it was just....well, never mind. :o)

Food cravings:
Taco Bell's Cheesy Fiesta Potatoes and Arby's. Not together of course.

Gender:

I'm still thinking boy but I mean, I guess it could be a girl...OMG I DON'T KNOW! We find out February 7th!

Belly button in or out?
In
What I miss:

My normal boobs. These things are large and in charge. Not even kidding- they're their own solar system at this point. Mmmkay, now that I've given you that mental image, let's move on. (I warned you that things were going to get personal now that I'm knocked up..talking about my boobs is just the BEGINNING of it!!)

What I am looking forward to:
My doctor's appt. is this coming up Monday! I'm going to be more prepared this time for the 2 hour wait in the waiting room (ex: new gossip mags, multiple snacks, and peeing in the cup as soon as I get there, opposed to holding it for 2 hours)
Weekly Wisdom:
I mean, people expect me to be pregnant AND wise????? Not happening this week at least!

Milestones:

I survived the first trimester (barely)!!
I'm just going to go ahead and announce that I am officially tired of peeing. I wake up about 4 times during the night and let me tell you , there's no "holding" it. I don't think I mentioned it in the last post but when we went to the doctor last time the bambino's heart rate was 173 BPM! Some people would assume it's a girl but the nurse said that she had just taken the heart rate of a baby boy and it was 176 :) Thankfully we only have a few weeks until we find out what the little nugget is!