Yesterday the Bees had a double header (two games in a row, but only 7 innings instead of 9). The first game went by fairly quickly, but the second game?!?!? Holy cow, it ended up going into extra innings, I think there were 9 innings total. I had gone down to the family room at the beginning of the 7th inning because I didn't think the Bees would tie the game up and go into extra innings. Down in the room there you can listen to the game over the intercom thingy, so when I heard that the game was going into extra innings, I was just
thrilled
**enter sarcasm here**. So, here comes the 8th inning..still tied. Here comes the 9th inning..still tied. But, before the 9th inning is over with, Adam comes up to bat with the bases loaded. Ball 1...Strike 1..Strike 2...GRAND SLAM!!!!!!!!!!!!!!!!!!!! ThankyousweetbabyJesus!!!! And I
totally
missed it! To be completely honest with you, I didn't even know Adam was up to bat. This is what happened:
Steve Klauke (Bees announcer on radio): It's up there, it's out there, and it's gooooonnneee!!"
Me (to the other girls): Yeeesssss, the game is over!!
Steve:
something
Adam Pavkovich
blah blah blah
(I just heard Adams name and figured he homered)
Me: Finally!!! He got a home run!!! My life just got
so
much easier!!
Other girls walk in: Oh my gosh, I can't believe he got a grand slam!!
Me: HOLY #%(*&%@!!!! (ok, not really...) I just thought it was a home run!
ok, you get the point. I was so happy!! Moral of the story though, I need to start paying attention to the games. All of the guys were so happy..and most importantly, Adam was happy!
Here
is the article from the Bees website. And
here
is an article from a local newspaper.
The guys left this morning at 10:45 since it's a 2:00 game today. I hope it's not too hot!
Yesterday me, Candice, and Lori went to the pool at the Sheraton and got some sun! It was so hot, but the pool felt nice! I have been called into work a few times, so far, so good! They aren't open on Sundays, so I don't have to worry about getting called in!
Hmm..I don't think I have anything else that interesting to talk about, I will post some pictures a little bit later on!! Ta-ta!!!
-Lindsay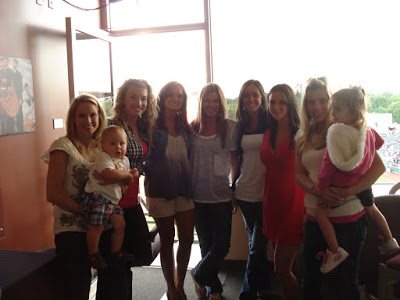 Some of the girls in our suite
Me and Sabrina O'Sullivan!