I made the drive from Tuscaloosa to Sarasota today in about 10 hours, not bad compared to the driving Lindsay and I did going across the country. It sure does feel good to finally be home. I'm also glad to know that one of my friends has two empty bedrooms in his house, so it looks like I found my off season home. I've been really lucky to find great places to stay every winter, its never been too much of a hassle. I'm going to spend most of tomorrow moving in and getting settled down. I have to make a few phone calls to IMG ( the training facility where I worked out at last off season ), my agent, to talk about winter ball, and a few others. I still haven't heard anything on winter ball and I'm getting a feeling that it might not happen this year... we'll see.

I had to rush a little bit this morning, leaving around 6:30am because at 7:00pm was my first off season softball game. I was invited to play, for the second year in a row, on a company softball team. Two of my buddies work for the same company and got me in there with them. We won while I went 3 for 3 with a home run, double, and single. Mostly its all good fun out there but some of the guys take it pretty seriously. Its pretty funny how nervous I was through the first few innings. I haven't really had that feeling during any of my regular season baseball games except for opening night and here I am with a bunch of middle age men, most with beer bellies, nervous trying not to make any errors. I feel like I have this big expectation to play lights out because everyone on our team knows that I play ball professionally.

Our time in Tuscaloosa was great. We went to the football game on Saturday night with Lindsay's dad and her brother Robby. We got to tailgate and see some of my old baseball friends. I got to meet and spent some time with a lot of Lindsay's family. They're great. We got to eat some really good food that I can't get anywhere else but Tuscaloosa. It was definitely a nice trip.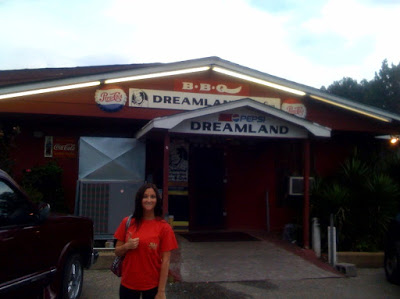 Dreamland BBQ has the best ribs I've ever had. There is nothing special or fancy about their restaurant except for the RIBS and sauce are the best.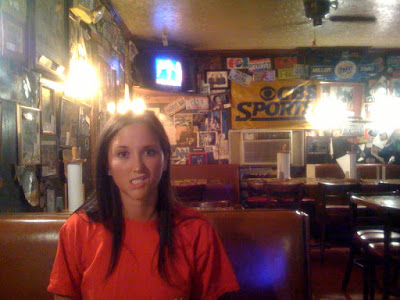 Lindsay has a funny knack for making goofy faces every time I try and take a picture of her.

Adam, Lindsay, Mary Beth, Evan Bush ( former Bama teammate)

BAMA football is ranked 9th in the polls. ( it says BAMA on the field )