I had been looking to attend some sort of gathering for bloggers but was not sure which one. After talking with
Kelly
we decided that BlissDom was perfect! I bought my ticket at Christmas while it was still the "early bird" price. But, stupid me didn't buy my plane ticket until this past Friday. You can only imagine how big of a dent
that
put in my pocket book!
I am hoping to learn all sorts of new and great things about blogging, but I am also really looking forward to finally meeting the women behind the computer screen of some blogs that I love. Kelly and I have "known" each other since we were pregnant with Presley and Guinevere and we seem to have a lot in common (except she is way more fashion savvy than I am, ha!)
We've been emailing and texting about what we are bringing and what we are going to do while we are there and during all of this I have learned that Kelly is very thorough :) When asking what she is packing she wrote a full detailed email with attached pictures! It was hilarious, awesome and helpful all at the same time. I could probably just pack my toothbrush and undies and be okay with what all she will bring...which, now that I think about it would save me a lot of time packing!
I also had to warn her (since we and going to be roomies for 4 days) that I am 75% perverted teenage boy and 25% well mannered lady.
Her response?
"I'm shocked that you think this offends me."
It's going to be so much fun! HA!
I am excited to meet new people, eat good food (Taco Bell), drink super fancy drinks (Bud Light), and relax (act like a high schooler) for a few days in what I hope will be warmer weather than what we have had the last few weeks.
I hope I remember to take my camera (read: actually take pictures) while we are there!
See? Don't we look great as BFF's?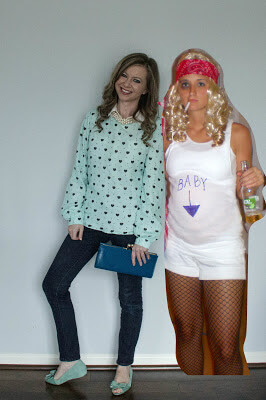 (Kel, I promise I have feet!)