Since the little surprise trip up to Bama last weekend things have kicked into full gear down here in Sarasota. The training facility I'm at this offseason (
IMG Performance Institute
) is really picking up the pace. The workouts have shifted from an endurance phase to a strength/power phase, meaning a lot heavier weights and a lot more soreness. Along with the strength training schedule of 4 days a week, they have me taking part in their i-Vision center three days a week. This is new to IMG but has some interesting ideas and drills. They got it from the Air Force who used it to train their fighter pilots. The 45 min sessions exercise all the muscles in your eyes by doing drills that work on focus, reaction times, peripheral vision, and other stuff...it gets pretty intense.
click here
to check it out.
It's getting that time of year where some of the professional baseball guys start coming back to IMG to start their training. I looked over at the tread mill today to see
Josh Fields
, one of the guys from last years group, getting his sweat on. He was traded from the White Sox to the Kansas City Royals just a few weeks ago and is excited to get a fresh start with a new team.
Ian Desmond
jumped right in today for his first time at IMG. He is a younger kid from the Sarasota area that was drafted in the third round by the Washington Nationals in 2004. He made his big league debut this year and seems to be a real good kid. Besides working out we spent most of the day talking about mental approaches at the plate and small mechanical changes in his swing that enabled him to have a break out year. I've heard rumors that
Joey Votto
is heading back this way. Since the Cincinnati Reds moved their spring training home from Sarasota, FL to Goodyear, AZ I didn't think he would train down here. He was a great guy to train with, always keeping everyone loose and on their toes. I hope we see him here soon. Up until now it's been just me by myself hitting the weights but now it looks like we are going to have a good group of guys. It sure makes working out a lot more fun with other people.
I haven't heard anything about winter ball or free agency yet. I feel like I'm in good baseball shape right now so I hope a winter ball team calls with some interest soon. It would give me a chance to work on my hitting and also make a little bit of money. As far as free agency goes, it would be nice to start hearing from some
National League
teams. A player like myself who can play a lot of positions is more valuable to a National League team because they carry an extra position player on the bench. There is no DH (designated hitter) in that league so there are a lot of line-up moves when substituting for the pitchers late in the game. But at this point I really don't care who calls just as long as they have a job for me.
It will be tough not having Lindsay down here anymore but I think we will both stay real busy. There is a small chance we could meet up in Atlanta this weekend if I get tickets to the SEC Championship game between Alabama and Florida. If not then maybe later in December when Matt Wilhite (long time teammate) is getting married up in Kentucky.
I'll keep everyone up-to-date on all the baseball happenings.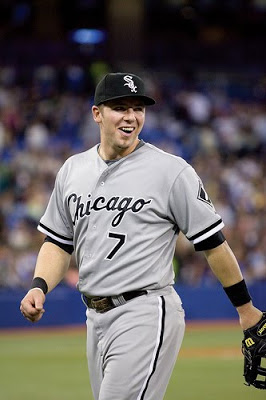 Josh Fields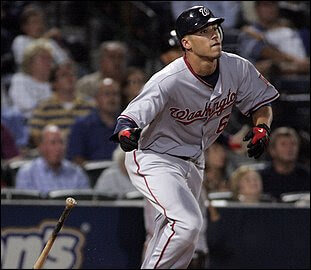 Ian Desmond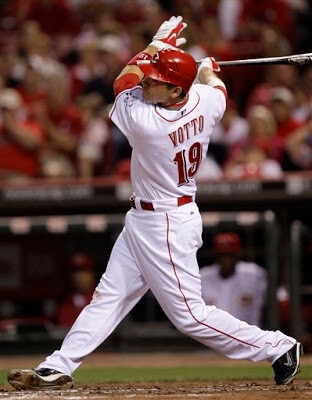 Joey Votto