15 pounds 12 ounces (75 %).
Honestly, we all thought she weighed more than that. All of our round about guesses were 18 pounds. I'm going to go out on a limb and say homegirl is packin' 6 pounds in her cheeks alone.
Can we all gather 'round, hold hands, and pray together that she's going to be long and lean?! That'd be great. I knew she'd gotten taller because she's outgrown pretty much all of her sleepers.
Shirts/onesies she's in 3-6 months. If we put her in 3-6 month size pants they're usually a little short, depending on the brand. Her sleepers are size 6-9 months and some of them are just plain ol' 9 months.
**Side note: does anyone know of a certain brand of socks that will sat on homegirls feet?? Drives me crazy that they won't stay on, unless I put two pairs on....clearly I'm out of the loop in the sock department.**
Size 2 in Pampers, but if we are using Huggies she could probably wear a 3. The Huggies are a little tight on her fat thighs. That's sad.
Holy guacamole, this girl doesn't miss a meal. She is eating 6 ounces every 3 hours during the day (unless she is napping, then she will sometimes go longer). Before bed she will eat about 6-7 ounces of cereal out of a cereal feeder. We've been making it pretty thick and she does great with that..no tummy aches or anything! As you can see in the pictures below...she loves eating off a spoon...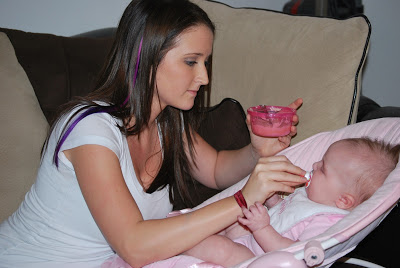 Her hair is light brown and her eyes are finally green! Thems is so purtty, too! My eyes are just regular ol' doo doo green, but Adams are more of an emerald green. While we are praying for height let's also pray for less doo doo and more emerald. KthanksBye!
Good enough. For about a week she was sleeping all night long without waking up at all. Then all of a sudden she would wake up around 4 or 5 AM and want to be un-swaddled or fed. I'm not sure if it was a growth spurt or what, but I'm hoping we are on the road to recovery and back to sleeping all night. She really doesn't want to be swaddled any more but I'm too big of a pansy to not swaddle her and see how that goes. Right now she goes to bed around 7:30 or 8:00 and will sleep until 7:00. If she wakes up and wants un-swaddled she goes right back to sleep.
Like always, bath time. Except now she doesn't scream her balls off when she get's out. It's glorious. We let her sit in the bath for as long as possible. If I have to refill her water 32 times to keep her happy, then I will do it.
She also likes her Jumparoo thingy-ma-jig. She has almost mastered the jumping part but mostly just swings back and forth. We have a Jenny Jump Up but we use that for more of a swing. Adam and I just push her back and forth..
It's totally safe. I think.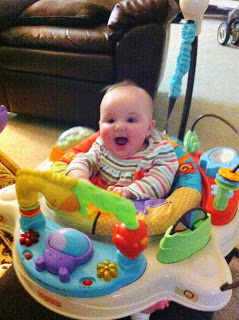 Pdizz had her first outing to the Quad during the Bama vs LSU football game. She wore her cheerleading outfit and looked sooo cute! We didn't stay too long because it was super crowded and I just wanted to be home.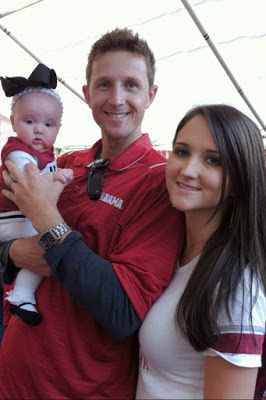 Presley also got to meet her Uncle Ricky for the first time! Him and my aunt Rah Rah live in Germany (he's in the Air Force) but he was home for a few days before being deployed soon! Rah Rah will be here in 18 days so then it'll be her turn to snuggle the little meatball!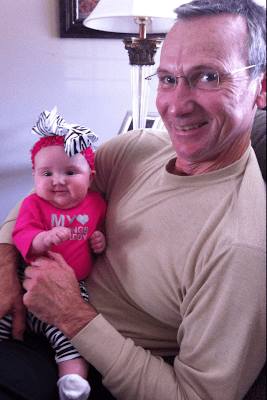 That's about all for now! I'm sure I'm forgetting a bunch of little details.
**crappy iPhone pictures...sorry!**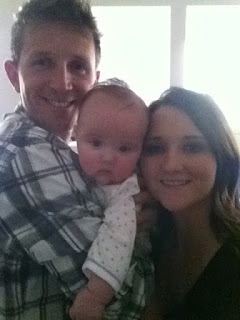 Anna Lisa and the cutest little smileytard I know!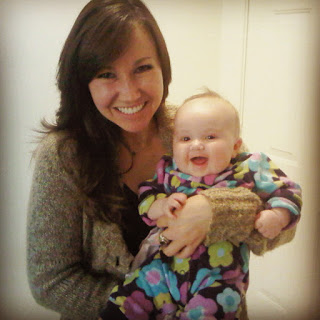 I had to work on this day, I so badly wanted to snuggle up to these two sleeping beauties!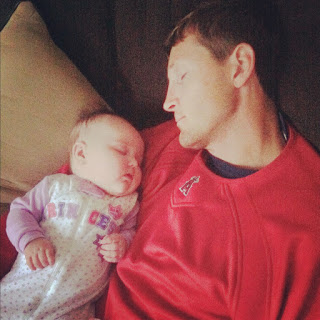 Chubby cheeks!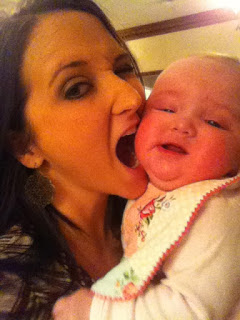 Is it too early to put hot sauce on her thumb??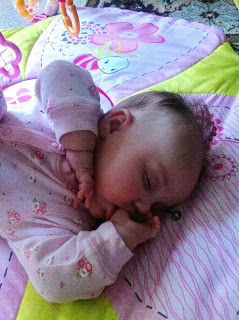 Just for fun..but that's me on the left (although I am 7 months in that pic) and Presley on the right...sorry Adam, maybe the next one will look like you :)