That "party of 1" would be ME right about now!
Ya'll, my hair's falling out, I'm emotional, I'm tired, and I'm a fatty.
NO I'M NOT KNOCKED UP!
What a mean joke that'd be! I mean, can't I heal from the first meat ball before we start brewing up #2?! Thanks!
Although, if you would have asked me last week if I thought I was preggo or not..I wouldn't have been too sure. But thanks to a $20 pee stick it's been confirmed that I'm not.
aaaannnnnnnddddd....exhale.
Not that I was worried. But considering I ate Chili Cheese Tater Tots from Sonic at 9 AM and hysterically cried to The Little Drummer Boy song all in one day...my brain started wondering off to those crazy little quarters and suddenly I'm planning another nursery in my mind and totally freaking my freak.
I mean,seriously, the Little Drummer Boy just wanted to play his cotton pickin' drum! For Mary! And the sweet baby Jesus! And pretty little Virgin Mary loved it!!!!
**frownsmile**
Have mercy, I'm crazy. Let's pretend none of this happened. Mmkay?
____________________________________________
I've been very busy at work. I did go to the doctor where he told me I have carpal tunnel in both wrists. Which I already knew, but I needed to pay someone $60 to make me feel like I wasn't a hypochondriac. He told me to wear some splints at night, but clearly I wasn't about to do that. I then went and got acupuncture done. It was super weird and definitely not relaxing. The needles didn't hurt when they were put in, but it did ache a little once they were in. Not sure if I'm going to continue to get it done. At 50 bones per session I can see where that'll get expensive. One thing I will be starting next week is some training to learn a type of massage called Ashiatsu. Or rather...the type of massage where I hold onto bars and walk on my clients back....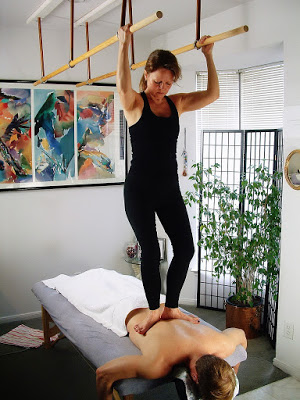 I will be trained by a Chinese guy named Houliang who has been doing Ashiatsu for 20 years. He learned in China which means he knows his stuff. I had one of these massages done and it was by far, the deepest pressure I've ever had done. I seriously thought he was going to break one of my bones, but it felt so good! This will help my wrists since I won't be using my hands at all. Score!
Monday Pdizzle has her 4 month check up. She will also be getting a shot or two...wahhhh! Just a Dtap and Rotavirus. She hasn't had any problems with shots before so I'm not too concerned about it. I talked to her pediatrician a week or so ago and mentioned that we are too poor to keep buying soy-based formula every week we'd like to try regular formula to see if she's still lactose intolerant, and she said that they usually suggest trying that around 4 months. Part of me is super nervous because if she still is allergic to the milk then that means hours and hours and hours of crying and straight up diarrhea.
For her. Not me.
Although I will probably be crying too.....
....just not diarrhea-ing all in my diaper.
She's doing great at school. I think she just sleeps all day and then does a little people-watching baby-watching. She loves to look at people. More specifically, herself. Give the kid a mirror and she's all smiley and giggly...ummm, can we say conceited???? RUDE!
I was going to take her to get her ears pierced today but Adam made me feel like a bad MamaTard and told me it was like taking his baby to have surgery. I'm gonna go out on a limb and say he was being a bit dramatic. But then I thought about it keeping her up at night and if you've even got half of a brain cell you know that you don't mess with a babes sleeping schedule.
So we wait. She's jewelry free for now.
In other news, I've been contacted by two different companies about doing a review for their product. One of them will be a giveaway so all of you little secret stalkers better come out of the rock you've been hiding under. It's okay, I'm a stalker, I won't think any differently of you.
Unless you're a creepy old man named Frank with a mullet and 3 teeth. Then I'll definitely think differently of you.
Alright, well this post has turned into complete rambling so I'll be scooting' off to bed.
Holla back young in'.