Presley Grace is the proud new owner of a set of tubes!
She had her surgery on Tuesday and it was super quick! Originally, her surgery was set for Wednesday. But when we went to her pre-op appointment on Monday I asked the doctor if he could do it on Tuesday because she was terribly horribly God awfully sick. Like, couldn't wait one more day kinda sick!
He had a booked schedule but said he'd squeeze her in first thing that morning since it takes no time to do it! And, Adam was able to go with me!
YEHAW!
We had to be there at 6:00 AM, the surgery started at 7:00, and by 7:15 the doctor was out and telling us it went perfectly!
He said that her ears were super infected and that he suctioned out tons of snotty drainage!
BARF!
We went back to recover where my sweet little angle baby was screaming like a possessed demon. Turns out that when babies come out of anesthesia, they feel like they're constantly falling. After about 20 minutes of screaming and napping she woke up and was back to normal!
The whole car ride home she talked. And talked. And talked some more!
What the heck, doc? Did you tune up her chatterbox, too?
Adam left shortly after that while Presley and I headed home to rest all day! She was immediately a totally different child and played all day long like nothing ever happened. They say to give it a few days for the tubes to settle then she will be perfect-o!
Sleep is slowly drifting back into our lives. Double ear infections really screw up the sleeping situation! Right now P has a pretty nasty cough, so she still wakes up some due to that. We are just going to take this weekend to let her cry it out, in hopes of getting back to sleeping all night!
Trust me, it can't come soon enough!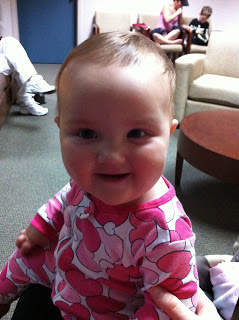 before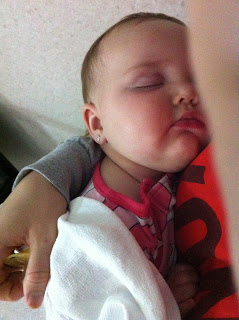 after