When we found out that the new little babe will be a girl, I immediately got excited because Presley will have a sister to play dolls, dress up, Barbies, dance/gymnastics with! (I mean, assuming they like each other. I don't have a sister so I really have no idea how all of that works. Lie to me and tell me they will always get along.) It is nice knowing that we already have so much for the newest Princess and that we will get to reuse so many of my favorite outfits that PDizzle wore!
But, there are still things we will need and want! So, here are a few (okay, um..a lot) of items that I have been eyeballing. Keep in mind, I am an avid Craigslist/ Facebook garage sale/consignment/pre-owned buyer so most of these can easily be found for a much cheaper price! But, I will still link to where they can be found online!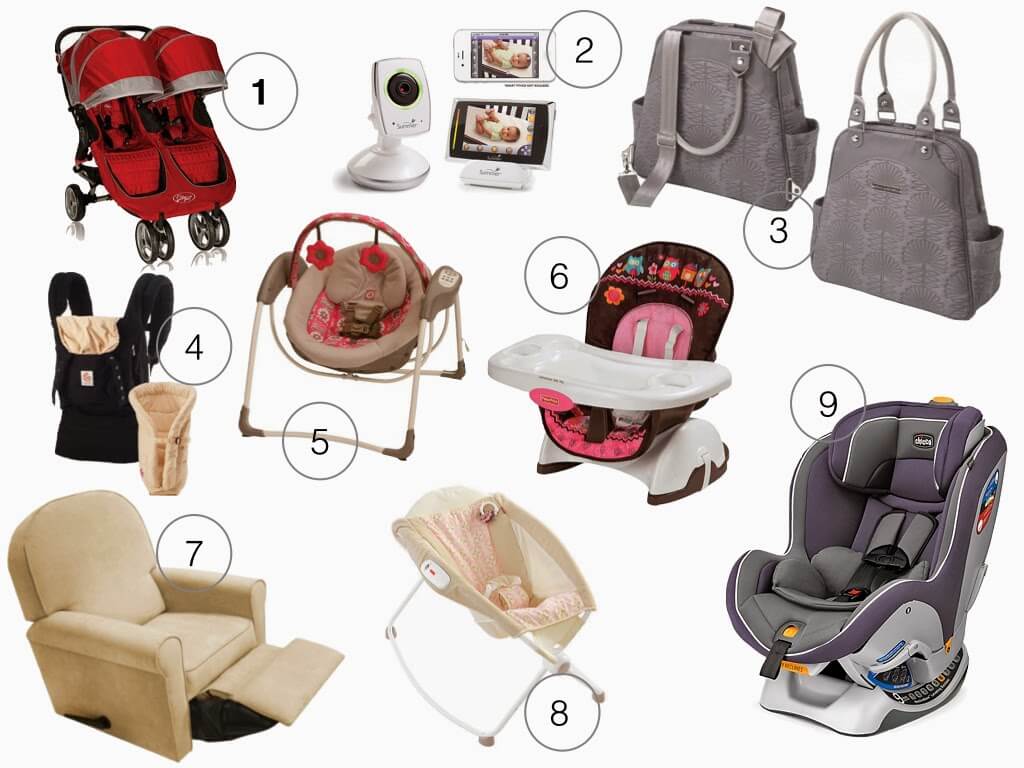 1)
A double stroller
- We have the single City Mini stroller and love it. It's one of the best investments we've made in the "baby gear" department, so I know the City Mini double stroller is probably amazing as well. I am not dead set on having that specific brand, and it's probably best if we go to a baby store and test out the different double strollers they have. If any of you have any recommendations then please send them my way!
2)
A new video monitor
- We got our Summer Infant Video Monitor from a friend of mine and it was awesome! But, being an older version and having been through the ringer, it bit the dust a few months ago. We are at the stage where we don't need a monitor for Presley anymore, but I know I will want another one when the new baby comes. This is another item that I am not dead set on when it comes to the brand. Our Summer Infant worked great for us though! I also like that this has the option to view the babe from our phone!
3)
New diaper bag
- This is something that I think we will definitely have to have. The Kalencom diaper bag that I used with Presley will not work for two kids. In fact, one thing that I didn't like about it was that there was barely enough room for one chills stuff. I do like this exact bag-mainly because it has the option to be worn as a backpack. Because lets get real--the thought of toting around an infant carseat, a rowdy toddler, then a diaper bag hanging off my shoulder makes me want to OD on Xanax right now. Having that mug strapped to my back will be one thing out of the way. This particular bag is pricey, so I will probably search around on Ebay for this bad boy.
4)
Ergo baby carrier
- I've heard SO many great things about the Ergo. This is something that I will definitely have in order to make going out in public a little easier with a small baby. I had a Moby wrap for Presley and hated it. Just, all of that fabric and I would have to re-tie it constantly because it would slip.
5)
Smaller baby swing
- This is an item that we really don't
need
, but would really be nice to have. We have a swing, but it is so incredibly big and takes up so much room. It also doesn't store very well and is such a pain to travel with. And now that we are closer to the farm in Michigan, we plan on spending a lot of time during the summer up there. My Step-Sister has this swing and it is much nicer than a lot of the "travel size" swings that I've seen before. I definitely think this will be nice to have!
6)
Highchair
- The highchair we used with Presley broke, and then we just switched her to one of those plastic booster seats. So, this space saver high chair is a must have. These are all over Craigslist so it shouldn't be hard to find! We also won't need it until the baby is around 5 or 6 months so that leaves plenty of time to search around!
7)
New rocking chair
- Now this, THIS is something that I want to splurge on. The glider that we used with Presley was great (and also a gift from my Dad and Step Mom) but it wasn't anything fancy and it wasn't the most comfortable chair I've sat it. It really made those midnight rocking sessions a little uncomfortable! This time around I want a comfy, squishy and reclining chair that I can possibly just fall asleep in with the baby in my arms at 3:00am. I also would like the color to be something that would go along with our other furniture in case we want to eventually move it into the den or something. I guess once we get the room/decor together we can really choose what we want. This is something that I won't buy used--unless it's from someone I know :)
8)
Rock N' Play
- This item is not a "must have" on my list. But, I have heard great things about this and wouldn't mind trying it out. These are also always on Facebook or Craigslist, so if I can snag one up for under 20 bones then I think we will try it!
9)
Convertible car seat
- Okay, this is where I need opinions. We already have an infant carseat, but will I actually use that? Would it be best to go ahead and purchase a car seat that we can use from the newborn stage all the way up to the age where she can move to a booster seat? I have seen this Chicco carseat at Babies R Us and love it. I would think that if I had this carseat and then the Ergo, I could make it out in public with both kids (without lugging around the 900lb infant carseat.) This is where I need the most advice!
Wow, if you made it to the end then I give you, like, 47 high fives! Please let me know if there are items that you loved/hated for the second time around!