I'm back working out at IPI (International Performance Institute) at the IMG academy. There are three of us working with a personal trainer doing baseball specific exercises. We lift for about 2 hours not including warming up with cardio or throwing the football and some end of the workout stretching. We have a different trainer this year and I'm liking the stuff we're doing. Last years trainer did a great job too. These workouts are really challenging, almost threw up on the second day. I think they'll get me back to the strength I was at last year before spring training.

I'm all moved in up at one of my buddy's houses here in Bradenton. Its only about a 35 min drive to my parents house down in Venice. Mom helped me get some stuff together because there is noone and nothing inside the house. My living room has just a lazy boy and tv, my bedroom just a bed. My clothes are spread out on the floor into piles, I haven't really started to hang anything up yet. I can live pretty simply and this is about as simple as somebody could live. I like it. It will change a little when Lindsay gets here. We'll get stuff more orginized and probably have to find another lazy boy.

Nothing else really going on. Six of us did go play putt putt golf and watch monday night football for one of our friends birthdays. It's funny that no one really commented on the fact that we are all turning 27 years old and we still throw kid style birthday parties like putt putt. I think the competitive factor is still there and we love competing against eachother no matter what game it is so it was ok. The birthday boy and I battled for first all night and we finished tied so we had to play a playoff hole. Karl came out on top, only fitting that he takes home the win on his birthday. Oh, did I mention that we finished the game with pizza. Pizza and putt putt...happy birthday Karl.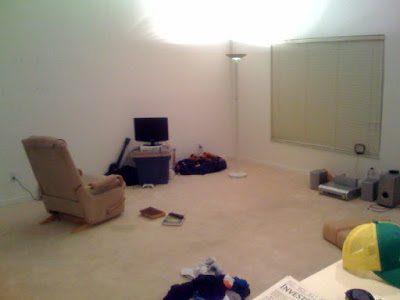 My living room
All the guys waiting on our birthday pizza.
Quiet please...Karl shooting.