MMkay, I'm not going to lie, trying to blog everyday is quite harder than I expected. I already talked about my beach trip and I'm sure y'all are getting tired of me talking about how I am growing a child. Our daily routines are pretty much the same everyday which brings me to my point:
We. Have. No. Life.
So I'm probably going to ramble in this post, talk about a whole 'lotta nothing.
I guess I could let you know what Adam has been up to. Oh you know, same ol' same ol'. Busy studying and doing the baseball thing. He did come home with some fan-freaking-tastic news not long ago. He will be graduating this December! Can I get an amen?? He was supposed to graduate next May, but decided to switch from the Professional Accounting program to the regular or some kinda something. I couldn't understand anything he was really talking about because I was too busy doing a happy dance like the neurotic idiot I am :)
Any who, something about not doing his CPA right away and just getting his Masters or something. I've had him explain it to me several times, but I forgot. BUT THE POINT HERE PEOPLE....the point is December is just around the corner and that means he will finally graduate! Hot diggity dog!
He's also been traveling a lot with the baseball team. While I was at the beach the team was in Nashville playing Vanderbilt. I'm pretty sure Bama lost every game, but Vandy is the #1 team in the country right now so whaddya expect? This week they have games almost every night of the week, then next week we are alllllllll off to Gainesville, FL! I've mentioned it a trillion times before but Adams parents and friends are driving up from Sarasota so it will be nice to visit with everyone!
I had to take the ol' Mustang to get new brakes on Monday. No big deal, guys gave me an estimate of about $150. Sounds good to me, then they call back. Something about needing some part because my brake pedal was all the way to the floor, I don't really know because I was taking a nap. The guy told me that I had to have it, which didn't leave me with anything else to say except ,"Go for it!"
$425.66 later, we were golden. Poor, but golden. This wouldn't be a big deal but last month I paid $500 for a new power steering pump or something. I mean, my car probably isn't worth much more than what we are putting into it. Hence why I am excited about Adam graduating sooner. He can get a job and Mama can get some new wheels! Both of our cars are paid for so it's really nice not having any car payments! Score!
Speaking of serial killers, or not...have you seen on the news about the Long Island serial killer? Ummmm, hi. Suffolk County: where we lived! That just totally freaks my freak!
Moving on. Monday night we had a Sweet 16 birthday party for my cousin, Mariah. It was at my Grandparents house and everyone and their Mama all of the family came and celebrated. It was the perfect weather, too. Tornadoes! Poor Mariah, all the attention was on the TV for the beginning of the party, and when I say TV I really mean James Spann. Who doesn't want to look at him and his little patch of hair on top?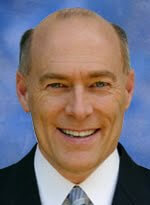 Now to the main event.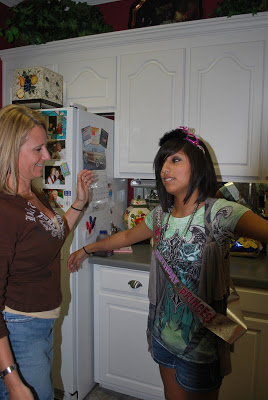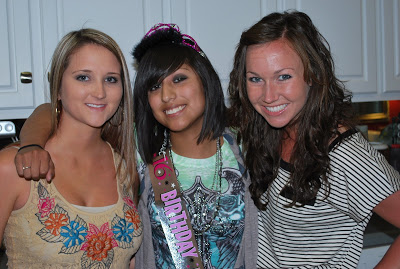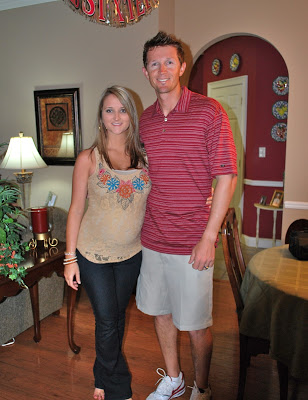 Adam looks like such a "coach" in this picture!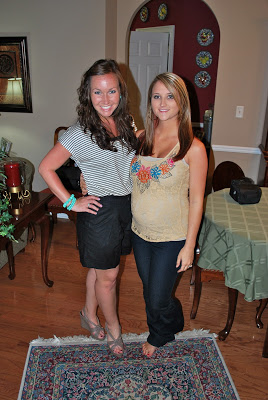 Anna Lisa and I. She went to the Masters and got a little burnt!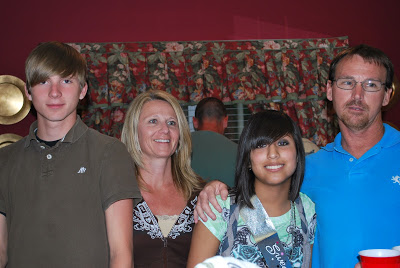 Colby, Rah Rah (her Mom), Mariah, and Mike (her Dad). Can you see the resemblance? No? Duh you weirdo's, she was adopted. Geeze.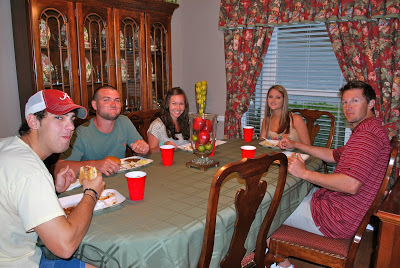 Luke, Chris (her step bro), Anna Lisa (her step sis), me, and Adam!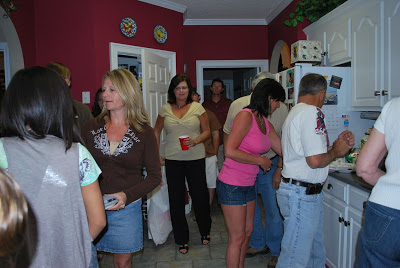 We had yummy bar-b-que from The Pig Shack. If you live in T-Town you have to try it! SO GOOD!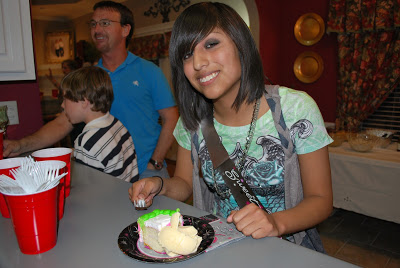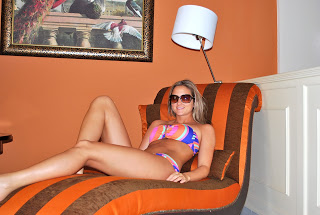 She owns every shirt from the Buckle, but being the great cousin I am, the girl that works there went to the back and got me a shirt that had just come in. Score! She loved it......I think.