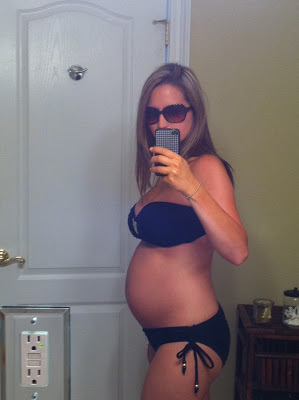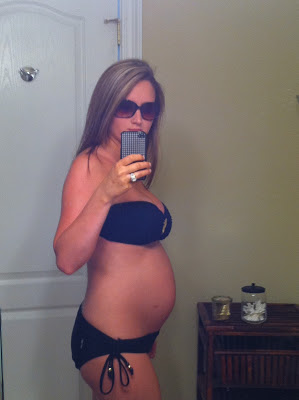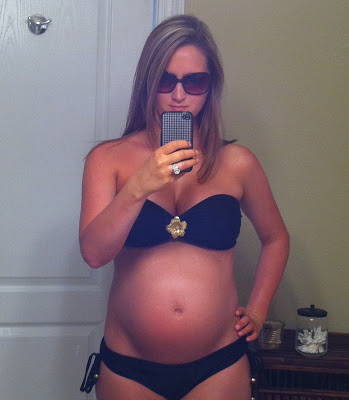 I apologize for the plethora of knocked-up-Lindsay-in-a-bikini pictures. For your sake, I won't post anymore. Ok I lied, I probably will.
How far along? 25 weeks
Total weight gain: Let's get real, I probably gained 2-3 pounds on the beach trip, so I am going to say 13 or so pounds total. Can someone please buy my rapidly-growing-a$$ a scale so I don't have to wait until my doctor appts to know how much I've gained?!
Stretch marks? Still none! And the scar on my stomach isn't getting bigger either! You can see it in the picture where I'm facing the right.
Sleep: I've added more pillows to my sleeping arrangements. To say that Adam and I need a king size bed, is an understatement. We have to have a mother bleepin' king size bed.
Best moment this week: Shamu-ing it up at the beach! I am already wanting to go back. Maybe I'll bring Adam along with me?!
Movement: All the time! I have officially felt what it's like to have a baby in the ribs though! It happened during a continuing education class I was taking for massage. I jumped and made a really awkward noise when it happened so everyone turned and looked at me. Not embarrassing..at all.
Food cravings: Cheeseburgers and french fries! I'm also still on a fruit kick, so I convince myself that I balance each craving out with the other.
Gender: Girl- Presley Grace!
Labor signs: None so far, thank ya Jesus!
Belly button in/out: It's not long before it will be flat. If I push on it in a really weird way it will pop out.
What I miss: After this past weekend I would have to say I miss being skinny!
What I am looking forward to: This coming weekend I am going to a good friends wedding and I am pretty excited about catching up with some old friends. Then the weekend after that is when I'm going to Gainesville!
Weekly wisdom: Get a spray tan. You won't believe how magical it is. I'm going to start referring my spray tans to "cellulite erasers" from now on. Seriously, it will change your life. Now, standing in line in the college campus tanning salon while you have a huge baby bump will definitely get you several awkward looks from all of the sorority girls there, but you'll get over it.
Milestone: I only have 3 days until my due date countdown reached double digits!
Oh shizz!!!!!!!!!!!!!!