Last night was a doozy in our house! Presley screamed..and screamed...and then screamed a little more. I'm no genius but I think she had a stomach ache which means nothing in the world would have been able to sooth her crabby little butt. She kept acting hungry, so after feeding her approximately 541 ounces of formula I did what any patient, loving mother would do....I handed her to my husband and told him I was going to bed and to not bring me the baby unless she was on her death bed.
And then I went and slept on the couch.
From 11:00 to 6:30.
CAN I GET AN AMEN??
I think between me being sleep deprived and her screaming I was losing my patience with her.
Like, I was pissed off at my 3 week old for having a stomach ache.
I think she is feeling better this morning though so hopefully we won't have a repeat tonight! We may try to switch formulas to see if that helps with her stomach issues. She is on Enfamil ProSobee (soy formula) but may try to wean her off the soy and back on to regular formula. Her pediatrician said she may not be lactose intolerant anymore, we will see!
Then there's the feeding and burping process. This kid takes for-ev-errrrr to burp. I usually try for about 10 minutes to get one out of her but I've decided that she finds the "super hard almost borderline child abuse burping pat on the back" to be very comforting. Because she just falls right to sleep.
*Le sigh*
Kids, they just won't give in will they?
_______________________________________
Anywhoozle, let's not forget mine and Adams mini vacation! Saturday night my Mom came over and kept the little nugget while Adam and I went away for the night. I had booked a hotel room in Birmingham at the Wynfrey, had plans to go to PF Changs, and do a little shopping! Of course I was most excited about the full nights sleep we would get!
We got there, walked around the Galleria (umm, hellur- back to school shopping+tax free weekend= a butt load of people!!) I love to people watch so it was fun. We bought a few things for ourselves and of course for little Pdizz!
I've never felt more like a Mom than I did when our shopping trip turned from cute shirts for me to...a Diaper Genie Elite II......BAM...that was reality slapping me right in the face!
But for realz, homegirl has some STANK in her diapers and her room was beginning to smell like..well....shit. Literally.
We headed home later on Sunday afternoon and I was so glad to see my baby! Adam and I were calling dibs on who got to hold her first when we got home. I'm a sore loser, so I won of course :)
It was so nice to get away for a night and spend some alone time with the hubs. I think that's important when you have a little babe because all of your time is now focused on keeping the kid alive! Time set aside for us is hard to come around these days, so I am SO thankful for my Mom. I know I say it in every post but seriously, she is a life saver!
__________________________________
Another thing we did the other day was go to Presley's open house for day care! She won't be going until the middle of October, but we went to meet her little friends and teachers anyways. I was a little nervous about meeting her teachers because, who are these whackjobs who are going to be taking care of my little meatball?
Oh, right, I forgot. Meet her teacher....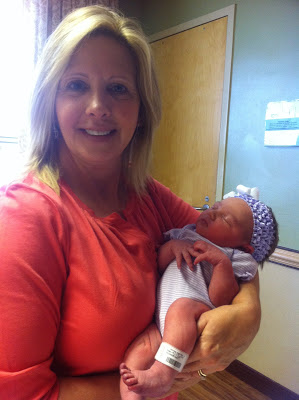 Yep, my Mom is going to be her teacher! :) :) :) Which means my child will most likely be held and spoiled rotten every day from 8:30-4:00. Lord help me!
I can't believe that this Friday she will be a month old! It has been a tough time getting readjusted to life with a baby. But no matter how sleep deprived and greasy I am- she is life's greatest blessing and I wouldn't have it any other way!
We finally tried out our Moby, she loved it!