Today Presley had her 2 week check up with her pediatrician! Looks like our little butter bean is growing right on track- she weighs 8.1 lbs and is 20 inches long. Let's all say a little prayer that she inherited Adams height and not mine....
Thanks.
They had to prick her heal, but turns out that didn't bother her as much as being naked on the scale did. My kid hates to be naked..makes me wonder who's child she really is. I KID!..Too far Lindsay, too far. Sorry.
Let's take a step back though and touch on one certain subject. I just want to know how in the WORLD people survive parenthood without the help of their Mother's? My Mom has been the biggest help to us and I really don't know how I would do it without her! She spent the night Saturday night and got up with Presley so Adam and I could go to a movie and get a good nights sleep. Oh Heavenly day it was glorious. I'm not gonna lie, I was dreading bedtime on Sunday night because I knew that I had to get up several times to feed her. Sad, but true. I dread bedtime and I feel like I don't even have it that bad! Presley only wakes up about 2 times and always goes right back to sleep, but shoot- I miss sleeping through the night! We love it when Nana comes over :) :) :)
As far as eating goes- I've officially quit breastfeeding. I was still pumping but it's so hard for me to have to watch everything I eat since she is lactose intolerant. I mean, everything I eat has dairy in it, and she can't have that milk so I was just "pumpin' and dumpin'" as I like to call it. So, just formula now which means...bottles! We've bought every bottle known to mankind trying to figure out which ones she likes. We've tried Playtex, Nuk, Tommee Tippee, Evenflo, and now we have decided to stick with the Dr. Brown bottles. Blah! There's so many pieces to them, but they really help with her tummy, so it is what it is!
As I said earlier, Adam and I had a date night the other night and went to the movies. We had to go to the early showing since I knew I'd pass out in a later one. We saw Crazy Stupid Love and it was HI-larious! I'm about four hundred and eleventy percent sure that I'd see it again and it has absolutely nothing to do with this....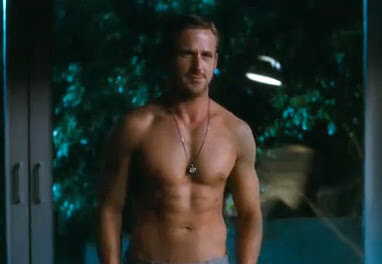 Nope. Definitely hated that part of the movie.
ANYWHO!
Well, that's about it for now. It should be a fun night around here considering my boobs are pulsating with pain at the moment :) I mean, how long does it take for this milk to dry up? Oh, the joys of motherhood, right?
And of course, pictures of the little lady!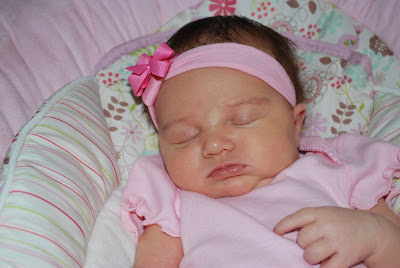 She's alive!!! This is a rare moment considering she sleeps for about 20 hours a day...literally!