I don't think our life has ever been exciting enough for two posts in one day! Yahooo!! Well let me just give you a quick update on the game...Adam played all 9 innings and went 3 for 5 with 4 RBI's. He got three doubles actually! I talked to him after the game and he was very excited! They are on their way home now so I should be getting a call pretty soon to go pick him up. I am reallllly hoping that he calls soon because the season finale of The Bachelor comes on tonight..actually, it comes on in an hour..eeeekk! I don't know if any of you watch The Bachelor but if so, I hope he picks Molly! :)
In my post earlier I forgot to mention what we did last night after the game (I guess I was too busy talking about....Chris). After the game was over Adam, Terry, and I went over to Brandon Woods house. His girlfriend Lindsey cooked chicken enchiladas and then we watched The Passion of the Christ movie. One word: Intense. If you have seen the movie then you know what I mean when I say I never want to watch it ever ever ever again. It was a great movie, but it's almost unbearable to watch, knowing that what we were watching really happened...for us. If you haven't seen it, you should! After it was over with Lindsey baked a Cookie Pie so we sat around talking about the movie while we ate that. Thankfully we had Terry there to answer a bunch of questions. He is just a book of knowledge when it comes to the Bible and everything that happened. He has read the entire Bible twice and has also read a million other books about Christianity.
Oh crap..gotta go get Adam...
Ok I'm back..
So, a while back Terry and his wife Tanner told us about a child that they sponsor through a Christian organization called Compassion. You can sponsor a child for only $32 a month and it will provide everything they need and more. Tanners brother went on a mission trip with the Compassion group and said that every penny you give is given to the child, so it's legit. Today I "adopted" a little boy from Ecuador, named Edison. He is 5 years old and is so stinkin' cute! You can choose from many different countries and you can also chose kids that have been on the waiting list for more than 6 months or that are in an AIDS affected area. I chose Ecuador because that it where my cousin, Mariah, is from. I will try to post the picture of him on here, but it's a small one. I am supposed to be getting more stuff in the mail. Adam is home now and is about to pick out a little girl! I will put the link to the website on here, take a look at it. It's only $32 a month and it's for such a good cause, I totally recommend you do it!
Alrighty, gotta go get ready for The Bachelor!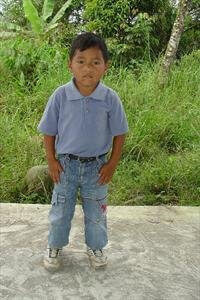 Here is my kiddo: Edison Patricio Guairacaja Villafuerte..isn't he just the cutest little 5 year old?!