This past weekend Adam and I drove up to Tuscaloosa for the Alabama vs LSU football game. I mean, 10 hours each way, that's dedication!
Our plan was to leave Thursday morning and drive from Sarasota to Atlanta to stay the night with Terry, Tanner, and Asher! It was only an 8 hour drive, but hello, traffic in ATL is horrendous...I'm talking, 8:00 PM and it's still bumper to bumper. No thank you. But, we eventually made it just in time to see Asher before he went to bed. He has gotten SO big, he is still so cute! He is crawling everywhere, and is beginning to take a few steps! I told Tanner it is a good thing that he was not mobile during the baseball season, otherwise we would have never gotten anything done! We could just lay him on his mat and he would stay! Now, not so much! We stayed up for a while and caught up with each other..we definitely miss them! We all had to wake up pretty early the next morning, we had to get back on the road and they were headed down to their hometown for the weekend! Somehow, we managed to get out of ATL with no morning traffic. Then we were on our way to T-Town!
Once we got to Tuscaloosa, we headed straight to City Cafe! We don't mess around..priorities people!! It was pretty crowded, but we got in there and got out pretty quickly! We left there and stopped by my Grandparents house because I left my glasses there the last time I was home, so I had to pick those up! It was a quick trip, but I got to see my Mimi :-)
After that we were planning on going to see Hunter during his lunch, but apparently they had to switch up the lunch schedule because of a field trip that day. But, we did get to see him for just a second (he was going to his other Grandparents house in Nashville for the weekend). Since we didn't stay for lunch we stopped by my Moms work for a few minutes!
That night Adam went to an Alabama baseball scrimmage while my Mom and I went to the movies. We saw Paranormal Activity (it was my 2nd time seeing it) and I was planning on my Mom being totally freaked out during the movie, but she must be a bajillion times more brave than I am because she wasn't too scared! I went home for a little bit while Adam finished watching the scrimmage..he had to leave early because he was too cold! When he was done we went to dinner at Benkei, a Japanese steakhouse..it's my favorite! After that we headed to my brothers house! We had to rest up for game day!
The plan for Saturday was for us to hang out on the Quad all day, then Adam had a ticket to sit in the Zone (thanks Lance and Jamie!!!) while Kristen and I were going to try and find tickets. If we couldn't find cheap tickets then we were just going to go watch the game somewhere, it didn't matter to us! It turns out, though, that a friend of Kristen's Dad had free tickets...whoot whoot!!! So throughout the day Adam and I walked around, hung out with my Dad and brother, and went to the baseball tailgate! It was a lot of fun to catch up with old friends. It seems like the LSU game is the game that everyone comes back to Tuscaloosa for so Adam got to see a bunch of old friends! About 30 minutes before kick off we parted ways, I went with Kristen and Adam headed off to the Zone! As Kristen and I were approaching our seats, we noticed that we were smack dab in the middle of every LSU fan in the stadium. We only had 4 or 5 other Alabama fans around us, but that's it..we were surrounded in purple and yellow! Ahhhhhhh! Thankfully we won, which made it even more fun for us Bama fans! There's nothing like singing Rammer Jammer and shakin' my shaker as all of the LSU fans walked past us..sad day for the Tigers :-)
After the game was over we met back up with Adam (who had a blast during the game) and we went to a few places on the strip before calling it a night! We had to leave on Sunday, but we had a great time! Securing a spot in the SEC championship game was worth the 20+ hours driving!!
Sweet Home Alabama!!!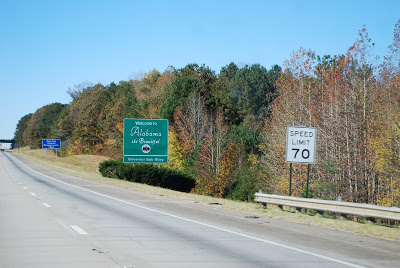 Just some of the fans on the quad..just excuse all of the purple and yellow...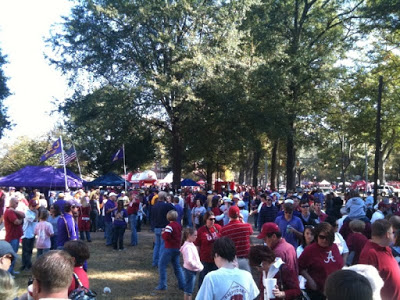 We stopped by Kristens parents house so her Mom could paint my toenails! I had to give Adam a tour of the barn..he was in Heaven!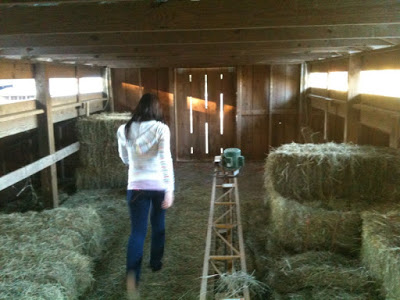 City Cafe! I had already devoured my mashed taters...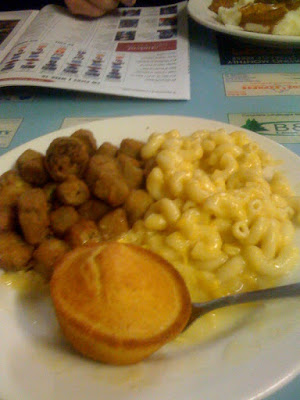 This is a video of one of the horses at Kristen's house..Charlie..he's massive!!
What would this post be without a video of Rammer Jammer?? Adam took this after we stomped LSU...