Back in the day I used to beg Adam to get me a dog..not a big dog..just a little Pekingese or something. Thankfully he never got me that dog.
We are living with Chris and Stephanie, who have a boxer named Layla. People, I have to pretty much beg Adam for attention these days. He is obsessed with this dog. Allow me to explain..
1. They snuggle together...look at her looking at me like, "back off lady..he's mine!!" She even has her leg thrown over him...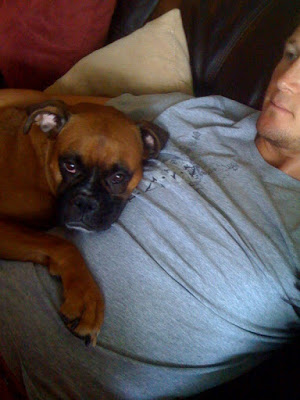 These are just a few of the things that go on daily at our house. So, pretty much these days I'm like a 3rd wheel to Layla and Adam..You know..I am only important when she's not around :-)
Anywho, things have been pretty good around here! Adam started working out at IPI with a group of guys every morning. He was very happy that he got the chance to work out at their facilities again this year, it took a while for them to get him in there, but I think it will be worth it! Still no word on winter ball, but I don't think that he is even talking to his agent about it yet, I think he will start really pushing for it around December 1st! I don't know about Adam, but I am getting very anxious about the world series ending..that means we are getting closer to Adam talking to different teams for next season! We have talked about the teams we like, and how great it would be if he would be able to play closer to home. We'll see!!
I have been busy brushing up on my cooking skills. This is a big deal around here. I have also been trying to get everything I need to get my massage therapy license in FL. After I graduated massage therapy school, I immediately took my Nationals test and passed. Assuming that taking a "nationals" test, I thought that I would be able to get licensed in every state..uhhh apparently that's not how it works. There are a few states where I have to take a couple classes that we don't take in school, and of course, FL is one of them. It's not a big deal, it's just a hassle to have to be doing this!
The massage therapy school that I went to in Utah is owned by a big company called Steiner, and they have several schools located all over the country. It just so happens that there is one right down the road from us so this past weekend we went to their weekend clinic. It's $25 for a one hour massage by a student that is going through school..so they are still in the process of learning, but it gives them great hands on experience! It wasn't too long ago that I was doing clinics, so it was weird being the client this time! It was also weird being back in a building that was set up just like my school in SLC was, it brought back good memories! We both got a massage, for a total of $50, you can't beat that! They also give facials, so I am sensing another Saturday being spent getting pampered soon!
Adam and I are leaving on Thursday to head up to Alabama! We are stopping in Atlanta though to visit with Terry, Tanner, and Asher..I am so excited! I am not sure yet if we will spend the night with them or not, but if we do we will just get up early on Friday morning and head to Tuscaloosa! I think we are heading straight to City Cafe though! I can't wait! Saturday we will be out on the quad tailgating! We are both very excited!!! I just wish the drive wasn't so long!
Oh goodness, I forgot to post about this..
You know, we didn't have any plans for Halloween this year. But we ended up going with Chris and Steph to a local haunted house then to see the movie Paranormal Activity.
Oh-my-sweetbabyJesus..that was the scariest movie I have ever seen. I literally screamed out loud in the theater, more than once. It's not scary like, bloody and gory, but it's about a demon that follows this girl..I can't even explain to you how freaky it is!! Just google it and look at a movie trailer.
Ok, well that's about it for now!! Later gators!