I suck at blogging.
Hi,
My name is Lindsay and I'm a work-a-holic we're poor so I have to work 700 hours a day.
Y'all.
What happens when I hate being a SAHM but I also hate working?
I don't hate my job, I just hate that I have to work 9-5 and only get to see my little nugget for a few hours a day! It sucks major donkey butt and me no likey.
Up until a few weeks ago I was only working 9-3, but now I am back to working 9-5 and FOR THE LOVE OF EVERYTHING GOOD AND HOLY I hate it! By the time I get Presley from day care I only have about and hour and a half before we start the bed time routine and she's out for the night!
Oh wellz.
It makes me cherish the weekends even more now!
In other news...
Presley might as well go ahead and apply for Social Security and move into the nearest nursing home...
because she's like, eating real grown up food these days and pretty much a genius!
Here's some updates on the fatty:
~two teeth
~waves and says 'bye bye'
~driving
~loves waffles and pasta
~so close to crawling we can taste it
~swaddle free at night
~also says 'pa pa'
~claps
~pisses excellence
See? So grown up I tell ya!
We still haven't taken her to her 6 month check-up..uh oh! We had her appointment for the 15th but when she was so sick her pediatrician rescheduled it for later on in January. Then after much thought we ended up taking her out of her pediatricians office and switching to a different doctor. There had been several doctor visits with her pediatrician that I wasn't happy with and when she overlooked Presley when she was very sick it was just the icing on the cake. We now have her 6 month appointment this coming up week and I am so excited to meet her new doctor (Dr. Buettner for the locals....her pediatrician was Dr. Roberts at West AL Peds and I really do love her, she just wasn't the doc for us!)
ANYWHO!
Adam has been pretty busy with baseball. The season starts very soon so they've had lots of practicing and workouts going on! I guess in a few weeks I'll become a single Mom...boo! Besides baseball he has been at school. He only has one class this semester AND THEN HE GRADUATES!
BOOMSHAKALAKA!!!!!!!!!!!!!!!
He will put out his resume soon and I pray he finds a coaching job! He is majoring in Accounting and has a minor in Computer Science....and he wants to be a college baseball coach!!??!!
Whatever makes him happy...if coaching falls through he at least has something good to fall back on!
Ok, well it's Bachelor time.
And if you're wondering, I can't stand Ben and I already know who he picks so I hate him even more. I can't wait for next season because Emily is the Bachelorette!
I'll consider entering Adam and maybe she'll want to be a sister wife! ;)
Holla back youngin' OOOOOHHHH OOOOOHHHH!
**
We had our sweet friend
Jamie
take Presley's 6 month pictures...get ready to fall over and die from cuteness overload....**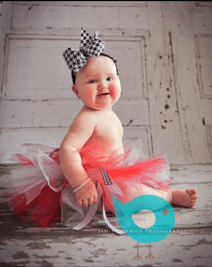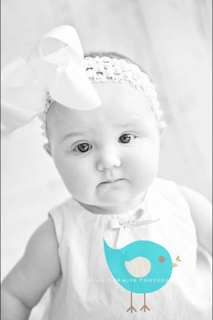 Different day, same pose :)
The flash got us in the next two pictures!