Bad thing about Presley growing up? I don't get to do the "monthly" updates! I figured once she turned 1 I would only do the updates at 15, 28, 21, & then 24 months.
Seriously though, how are we already at 15 months old ,baby girl?
Her 15 month appointment isn't until the end of the month, so we won't know until then!

Height:
Not sure, but I'm going to say around 31 inches. We will find out at the end of the month!

Clothing Size:
Some 18 months, but to be on the safe side we buy 24 months. Shoe size is 3.5 but we just buy 4's so they'll last longer!

Diapers:
Size 4! We ended up having to switch from Pampers Crusiers to the Huggies Natural & Pure diapers because she kept getting a diaper rash. Since switching she hasn't had any more rashes!

Feeding:
She's become a little bit picky when it comes to eating. PDizzle likes turkey dogs, morning star chicken nuggets, mac & cheese, chef boyardee's chicken and vegetables, cornbread, pancakes, hard boiled eggs, oatmeal with nutella, peanut butter & honey sandwiches, veggie chips, goldfish, and holy moly WATERMELON. We go through so much watermelon it's not even funny. She went through a grape eating phase but then I discovered grapes in her poop and that, my friends, is something I can't handle.

Hair/Eyes:
The hair is definitely curly. I can't tell if it'll stay curly forever or if they'll go away once we trim her hair. While I think curly hair for P would be awesome, I also think it'd be super stupendous if it straightened out a bit. Ya know, like, maybe she will have the type of hair that's easy to straighten but can hold a curl when needed. I don't know, I just feel like I've heard so many people with curly hair say they'd "die to have straight hair" and I've never really hated mine. But for real though, I am thinking too much into this. Let move on for pete's sake.
Sleep:
She still goes to bed around 7:30 and sleeps until 7:00. At preschool during the week she only takes one nap from 11:30-1:00, but on the weekends she still takes two naps (morning and mid afternoon). The last few days have been a blast (hellacious) because two top molars are coming in and that seems to be bothering her during the night. So, you can imagine how much we all love life right now.

Fun Stuff:
Walking is so last week. P would rather run everywhere. Which would be adorbz and all except it's more of a "stanky leg wobble run", if you catch my drift.
P started preschool and now goes in without crying. I took her into the class the other day and they were practicing snack time at a table, and I thought I was going to die of cuteness.
Words she can say are: mama, dada, nana, papa, rah rah, pop, dog, cat, meow, go, ball, bow, train, more, and baby. She can also call Toodles and it's pretty funny! (oooooooooohh)
She babbles all the time and seems to think that she knows what she's talking about. If I get onto her she runs over to me and babbles like she's trying to explain to me what she was going to do.
Homegirl has one heck of a temper. If she's done eating or drinking, she throws everything in the floor. If I try to feed her something she doesn't want she gets super p.o.'ed and knocks it out of my hand. It frustrates me to no end! But how do you explain to a 15 month old that if you're done with something you just leave it on the tray and I will come clean it off? If you're a baby whisperer then please leave me some tips!
She loves bed time and if you ask if she's ready to go to sleep she runs to her bed and freaks out until she's in the crib. I can't argue with that!
We hung a swing out on our deck and she loves that. We have to keep the blinds shut because if she sees the swing she instantly goes into super pyscho mode and must go outside asap.
Barney and Mickey Mouse Clubhouse are constantly on our TV. She watches it all day long on the weekends. We should probably not let her watch as much TV as she does, but it's not like she's glued Jerry Springer or Spongebob. She likes the songs the shows sing and is hopefully learning some thingg (because for the friggin' love if Barney sings about eating apples and bananas one time he's going to sing it a million!)
Obviously, I could go on and on. This age is so much fun! I miss her when she's at school everyday and when Adam and I put her to bed we usually get our phones out and look at the pictures/videos we took that day. We love her so much it's ridiculous.
Presley Grace,
You'll never know how much we love you, sweet girl!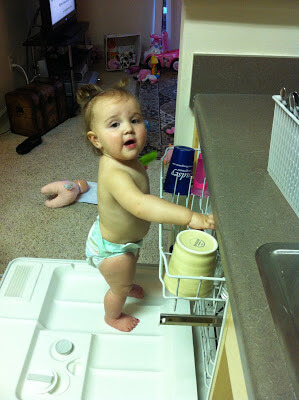 You love to help with the dishes. If we could only teach you to pick up your toys and bathe yourself :)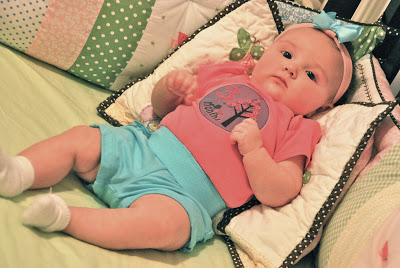 You had school pictures the day you started pre school. Your Dad thinks you look ridiculous, but what does he know?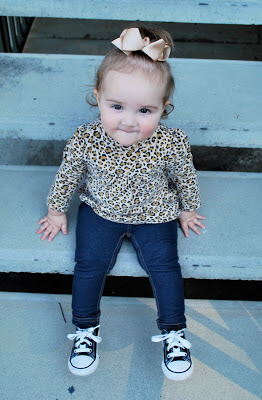 I die. So stylish! Also, you own 5 pairs of Converse and I promise to never let you wear Keds. Pinky swear.