Sorry I've been MIA lately, not much going on and I've just been in a funk! We are going to be busy over the holidays so I may not post too often!
One of the things I love about living in Huntsville is the options of activities to do with Presley. There are tons of really nice play grounds, Monte Sano State Park, and several indoor play places.
Since it's getting colder we have only been to a few outdoor play grounds, but we have found a couple indoor play areas that are super nice!
The first one we went to is called
Up A Creek Family Adventures
. It's about 20 minutes away but totally worth the drive. They have Walk-In Play a few times a week and then on Saturday. All we pay is $9.50 for Presley and we can stay for as long as we'd like! It's worth every penny. They have an area for smaller kids, but then have a few blow up bounce houses that Presley loves! The only draw back is Presley wants to spend most of her time on this one particular blow up thing that has a mechanical surf board, and most of the time there is a big kid on it and when someone wants to ride the surf board there can't be anyone else around them. So, we spend most of the time pulling Presley off the bouncy part and she screams.
Every once in a while it won't be crowded and P can play on it for a while, but she loves that one in particular!
They also have a tree house, and Presley likes it too. There's a slide attached to it but it's basically like shooting out of a cannon. I put her through the slide and she hit her head, basically I should have been arrested by the Mommy Police right then and there.
Up A Creek also has a rock climbing wall, which I want to do so badly! Maybe one day we can go when it's not too crowded and I will attempt it :)



Another indoor play place here in Huntsville is called
Kid Venture
. They actually just opened up at a new location last weekend. It's about 10 minutes from our hood. Last Saturday we had planned on taking Presley, but when we walked in we decided it would be better to go to Up A Creek. Kid Venture is very nice, but I feel like the equipment was more for older kids. They had one bounce house and the other contraptions were a little too big for her.
I guess.
Honestly, it was so crowded I couldn't really tell what was what. Maybe we will try again in a few weeks once the crowd dies down. It was opening weekend so I am sure everyone was there just to try it all out!
I wish Tuscaloosa had some kind of indoor play areas, but they don't. The only thing remotely close was Chuck E Cheese, and it got destroyed by the tornado in 2011. I feel like even if there was some indoor play areas they would get run down pretty quickly, that seems to be a big problem in T-Town!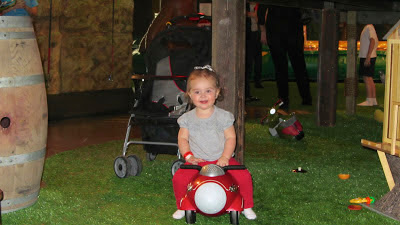 Up A Creek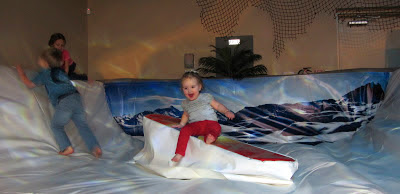 Her favorite thing to play on at Up A Creek!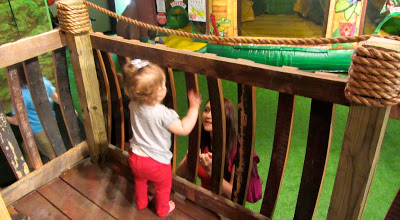 view from the tree house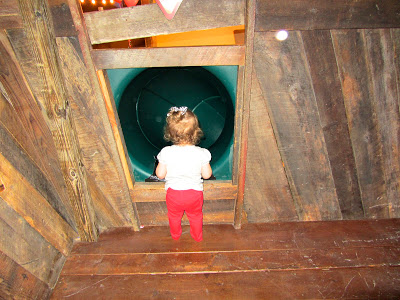 death slide!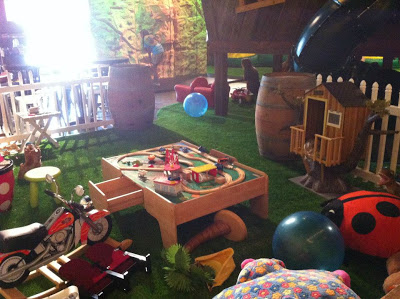 toddler play area at Up A Creek
another picture of the tree house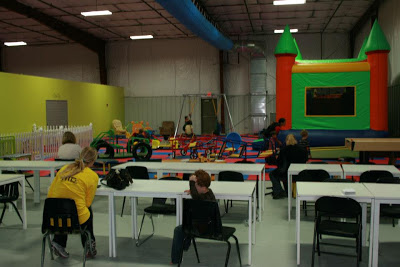 Kid Venture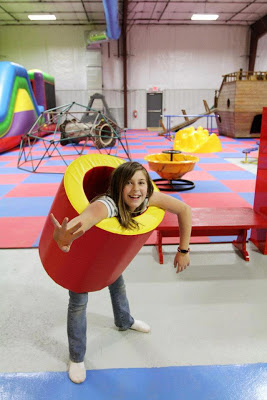 KidVenture- picture from their Facebook page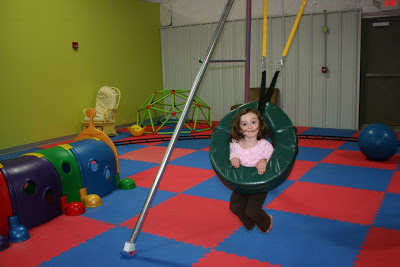 via KidVenture Facebook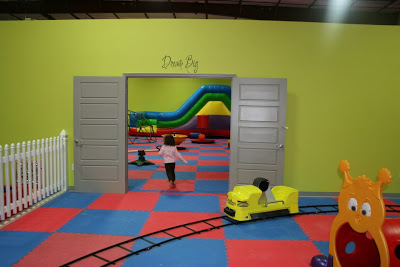 This room we didn't see when we walked in, Presley may have enjoyed this more than we thought!