On Saturday we headed over to a local Christmas tree farm to chop down our very own tree! When I was growing up that is what we always did and I have always wanted to create that memory and tradition for my kids.
The first Christmas Adam and I were married this was our Christmas tree. Remember, we lived in a shoe box for an apartment on UA's campus and this was all we had room for..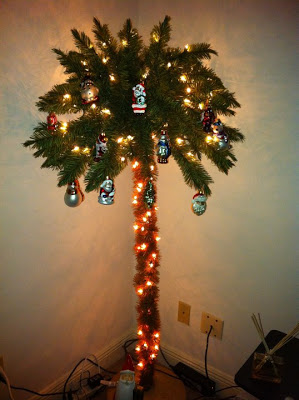 I considered that one hell of a compromise considering Adam would've been okay without having a trace of Christmas decor in the house, let alone spending our hard earned bones on a tree.
Then last Christmas we would have cut down our own, but the only Christmas tree farm in Tuscaloosa (that I knew of) wasn't open anymore. So, we went to Lowe's and picked out one that they had already cut down. Close enough for me!
Funny story (remember I married the Grinch)...Adam told me that I couldn't buy lights or decorations for our tree. I'm not sure if he was joking or not but something tells me he was for realz. So, I did what any wife would do...
I bought a crap ton of ugly ornaments and lights and decorated that bad boy. It was ghetto FOR SURE...but considering we lived in the hood it was quite fitting.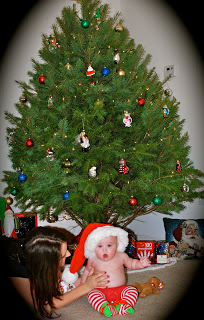 Please excuse the awkward looking butterball in that picture. Not sure why this is the only photographic evidence we have of this craptastic tree even existing.
This year though, we were doin' it. We were going to make it a family affair, roam around the ol' farm, and Adam was going to saw that mug outta the ground if it's the last thing he ever did.
My Dad and Missy met us at our house and we all drove over to the farm. Silly me forgot the stroller which, I am now realizing was a terrible mistake. We parked, signed some papers, got our saw, and walked over to the Leyland Cypress trees. This farm was huge and had the different types sectioned off, but luckily the kind I wanted was near the entrance of the farm. I'm not a very picky person, so I didn't spend too much time choosing a tree. Basically, I wanted one that wasn't too tall or fat, because I didn't want it to take up too much room. The only thing I knew I wanted was a Leyland Cypress tree because it was the only one that didn't have pokey needles. I knew Presley would be all over this tree like white on rice, so the feathery texture of this tree was perfect!
Adam also lucked out, because the stump of this mug was skinny. It only took him a few seconds to cut down and then we were on our way.
Meanwhile, Presley was screaming her brains out because GOD FORBID someone put her down. I was confused because I thought the big open space for her to run around on would be fun, but apparently I know nothing about anything.
It took us a day or two to get the tree up and decorated but here she is in all her glory...still semi-ghetto. I'm not the type of person to go all crazy on our tree. I mean, some lights, ornaments, and candy canes is about as good as it gets.
Disclaimer, though: I have to get more lights. I thought we had several strands but I can't find them. So we are only working with one strand right now.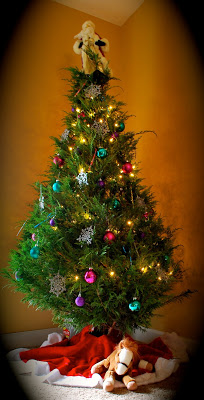 Also, there is no organization to our ornaments and it basically just looks like something diarrhea'd ornaments everywhere.
Next step: getting presents under there. Or not, because remember, we have a nosy little 16 month old.