Last weekend we ventured into a store here called Essex Bargain Hunt. It's basically a place where Overstock and Amazon send their returned items and they have the prices marked down to a very decent price.
We didn't have anything we needed, we just wanted to check it out.
And WOWZAS!
The stuff they had, and the cheap prices were pretty amazing. Baby beds for $40. Every kind of kitchen gadget you can imagine for low prices.
Originally $269 (which is cheap to begin with) but they had it for $169.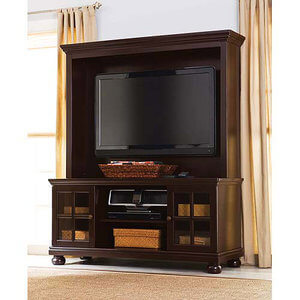 Now, I should probably state that the contraption that our TV is on right now is ghetto.
Story of our lives.
Like, Adam got it off the side of the curb on UA's campus..type of ghetto.
But this bad boy has hung around through all of our moves and has been a champ. It's not fancy, but it does the job.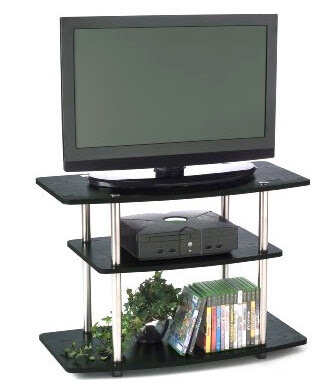 I KNOW!
Except ours is more of a grey-ish color because of the dust...keepin' it klassy round' here!
We bought the BH&G one for $169 and hauled that mug home. We opened up the box and saw that it was scratched up pretty badly. But we kept on truckin' because we knew for the price it probably would be perfect. We pull all of the pieces out that were in the box and just stare at it.
Like, that's it?
There's only 4 pieces in front of us.
And no cabinets.
There was literally, like, half of this thing missing! And the pieces that were in the box were torn in half, scratched, and dented to the high heavens.
We took it back the next day and got a refund. But now I am on a mission to get something for our TV because the littler terror (Presley, as if I needed to clarify) has started shaking ours and any day now the TV will be shattered on top of her.
While I think that's the best way for her to learn a lesson we'd be out a TV and we can't have that :)
KIDDING!
But seriously, we need the TV.
I had originally been eyeing a DIY (read: take it to Dads house and get his help) project that consists an old beat up dresser and turning it into a TV thingy-ma-jig.
Like this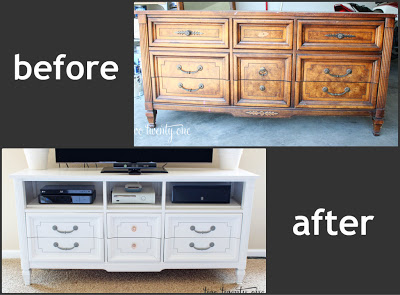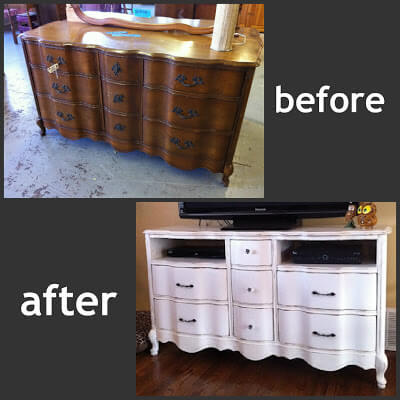 I have found a few dresser online that are pretty cheap, I just have to gather everything I need to do it!
I'm not sure that I want to paint it stark white, but maybe an off white.
Anywho, I will definitely do a before and after of it all once I find what I need!