Last nights game started off pretty normal. You know, me getting there really late, talking to all of the girls, playing with a few of the kids, giving a random 19 year old boy dating advice..the usual. Not paying attention to the game, nothing new. I took our camera (Big Bertha) to the game because Adam was playing 1st base, which hasn't happened that often, and it's much easier to get action shots of him when he's playing in the infield. So I move and go sit above the Bees dug out, getting ready to watch Adam bat, but the inning is over when he is on deck.
So I am thinking,"
Ok

, I will just sit here and take some more pictures of him at first base."
Then, all of a sudden...Adam is on the pitchers mound..throwing the ball to the catcher.
What in

tarnation

is he doing??
Well, you see, in the 9
th
inning the Bees were losing to Sacramento, 18-9. There was no way that the Bees were going to come back and win. Most of the time when this happens, the coach brings in a position player to pitch, instead of using another pitcher.
Let me just tell you, I was a nervous wreck! Before last night, I always wondered why the pitchers wife/girlfriend always got so nervous before their spouse pitched. Well, I now know why! I was shaking so bad! Ha! Here is how it went:
1st guy up to bat
: Hit the ball straight to Adams glove, got out at 1st...PHEW!!!
2

nd

guy up to bat
: This guy got a home run (which by the way, was his 3rd home run of the night, he was already doing really well)
3rd guy up to bat
: Toasty struck him out...
YEHAW
!!!!
4

th

guy up to bat
: Popped out to the catcher.
ThankyousweetbabyJesus
..he survived! Although, at one point he almost pegged a guy in his head, it was pretty funny.
So, that was our eventful night! When we were driving home he said it was the "funnest night ever." He was really pumped! So, here are the pictures from last night, some of them are blurry because I couldn't get the settings right..but you get the point. Enjoy! Oh yeah while I was getting ready for the game, I got a few text messages from the girls saying that Adam hit a home run. Stupendous!!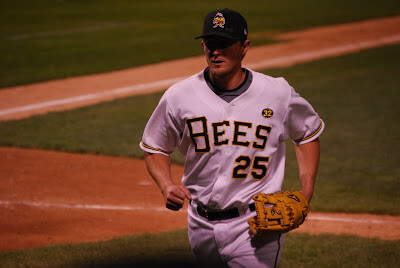 After the inning is over, going into the dug out
Adam and Brandon