I know I said that a "post was coming up soon".. but unfortunately it's been impossible to get on the internet lately. So..what have we been doing? Oh, I'm so glad you asked!
We are finally back home!!!!!!!!!
And when I say "home" I actually mean Alabama. But, it has definitely been one heck of a trip and I can't wait to tell you all about it! I am going to try and break it up into several posts though. Once I tell you everywhere we've been you will thank me. I don't think it would be fun for anyone if I wrote a post that took you 4 1/2 days to read.
I will start off by telling you everywhere we went. We left Salt Lake City on Thursday (Sept 17th) around lunch and drove until about midnight which put us in Lincoln, Nebraska. We stayed in the Cobbler Inn (yes, you are reading that right, the Cobbler Inn, and it was a very interesting hotel, in fact). We woke up bright and early on Friday morning and drove for-ev-er all day long until we reached Suttons Bay, Michigan. If you are wondering why in tarnation we drove there, it's because Adam has some family up there, and his family has a stupendous farm house up there! We spent Friday-Tuesday there with his Grandpa, then left Tuesday around lunch and headed to Detroit, Michigan to stay with his Aunt & Uncle. We then woke up on Wednesday and headed to Somerset, Kentucky and spent the night with one of my best friends from high school, Megan Gregory (well, she's married now, so technically her last name isn't Gregory anymore..whatev). We hung out with them and stayed the night at their house and actually slept in on Thursday, then we were back on the road headed to Huntsville, AL to stop by my Dads to get my car. Finally, we were headed to Tuscaloosa, AL. Phew!!!!!! I am tired just from typing that out!
So, as you can imagine, we have been doing some traveling! It was, surprisingly, a whole lotta fun! Of course, we were packed in the car the the friggin' Beverly Hill Billies, but we survived! (And if you're wondering, I was able to lean the passenger seat back and get some sleep )!!!
I would love to keep on writing to tell you how the first part of our trip (from SLC to Michigan) went, but we are getting ready to go see my sweet little niece before Adam leaves! He is leaving in the morning and going to Florida! I will be joining him in the middle of October, after the wedding I am in is done with..
Here are a few pics for you, I have billions from our trip, but only have a couple of minutes...and let's get real here, I haven't photoshopped in my tan on any of the pics yet....so they aren't quite ready...ha.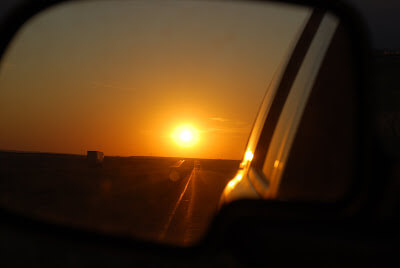 Pretty sunset out of the side view mirror..