Well we have had a busy week so far! We are now moved into the Homestead Suites and I must say, it sucks! I am feeling a wee bit claustrophobic in this teensy tiny room, and the internet could be a little faster, but it's home for the next few days :)
Adam and I are staying is Salt Lake for a few more days because we are going to see a speaker at church this weekend. The speaker is Nick Vujicic and he has an amazing testimony. He was born with out arms and legs (he has a little nubby thing that is like a foot and he calls it his "chicken wing") and his story is so interesting to listen to. He is very good looking, and the Australian accent, **sigh** it's amazing too :) We saw him speak earlier in the season at the National Day of Prayer, so when we were asked to go again we gladly agreed!
Here is a video
about him, it's kind of long, but it's really good! I can't wait to hear him speak again!
Well let's see, where do I begin to recap our last week?!?!
The guys got home on Friday (the 4th) and started the last series of the season. If you've been reading my blog for the last few months you know how much I have been looking forward to the end of the season! We didn't do anything extremely exciting, just hung out with the roomies. Lindsay Banas (we call her Lindsay Bananas) came, she is our room mate Chris Petits girlfriend. We all love her, she is hi-larious. We hung out and had game night, boys vs. girls and we played Battle of the Sexes. It's a game where the girls draw a card and get asked a "manly" question and then the guys draw a card and get asked a "girly" question, whoever gets the most cards wins. Us girls were just totally for sure that we had this game in the bag. We were going to win. No doubt. So you know, we are winning some, the boys are losing some, a few wild cards are drawn and we have to put back a card, blah blah blah..then for some reason, the girls minds slip off to GoshKnowsWhere and we start losing. Let me just recap one of the questions for you.
Adam (reading a manly question to the girls): Okay, on an automobile, what does ABS stand for?
Me (I am so totally sure that I know this question I don't even run it by Tanner and Lindsay B, so I shout...)...AIR BAG SYSTEM!!!!!!!!!!!!!!
Tanner (quiet little Tanner, who also thinks I am a genius at this point): Yea-yahhhhh!!!!!!!!
What the ______?!?!?! I'm so stupid! Anti-Lock Brake System. stupid stupid stupid. Whelp, ya learn something new everyday.
The baseball games went by slow, the fans were all sad that the season was over, meanwhile, all of us were excited. The Bees started winning a lot of games, so the thought of going to the play offs starting haunting us..but we made it out safely.
Moving on.
Turns out that both of our room mates got called up to the big leagues! Terry has been up before, but this was Chris' first time! He was out for a part of this season for surgery on his hand, but he is such a great athlete, and he is so down to earth! Plus, his girlfriend has an awesome name. Just sayin'. (If you haven't caught on yet, her name is also Lindsay :) )
Then it was time to pack up. And let me tell you. Adam and I have a lot.. I repeat..a lot of crap. It's pretty pathetic. We each have a suitcase dedicated to just shoes, and I am embarrassed to say (for Adams sake) that his shoe suitcase is bigger than mine. I'm not sure if it because he has more shoes than I do, or if it just that my shoes are smaller and fit into a smaller suitcase. Either way, it's absurd. We just shoved clothes into suitcases, no particular order, then I realized that I actually needed clothes for the remainder of our time here...so it's a big mess. Good times. By now I am a professional packer. I can stuff an entire closet into my bag, sit on it, and have it completely zipped up, almost bursting at the seams, but by-George it's all in there! I think we have a total of 7 suitcases, we have 2 laundry baskets full of junk. A box of baseballs (which I find totally unnecessary but Adam insisted on bringing them home), we have baseball bat bags, a crock pot, a griddle, an xBox..you name it, we've got it.
I am really bothered by the fact that we are packed so tightly into our car, that we can't even lean the passenger seat back. So that 25+ hour car ride across the country should be interesting sitting up the whole time. I think I might just get Adam to strap me on top of the car so I can lay down and nap. No? Not a good idea? Well then I might just have to sleep on top of all of our stuff. Now that I think about it, that might be a marvelous idea!
Yesterday was my sweet nieces birthday. She turned 2 years old, man time flies! She is so cute, and has the best little personality! When I was back home, I got a little phone call from her, and this is all I heard," Sissssssssy! Blah blah babble babble SISSSSSSSSY!!!" Good times. I can't wait until Adam Uncle Pac and I get back to Bama to see her (and Hunterboo of course) again!
Well, it looks like I must go now...I am watching the US Open and Federer is on....I'm going to go drool over him cheer for him now! Ta Ta!
Enjoy the overload of pictures..I will miss all of these girls!!!!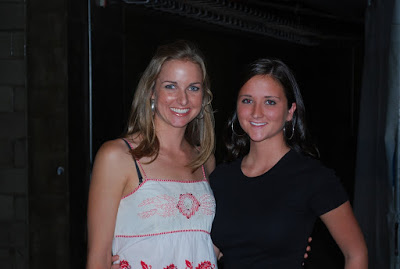 Jen-nay and I at the last game...tear :(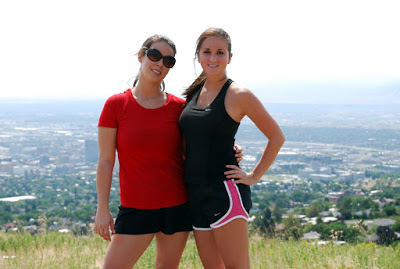 Myla and I hiking! This girl is freakin' hilarious!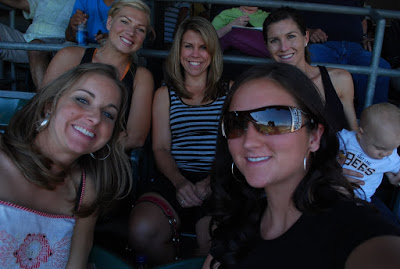 Top row left to right :Lindsay "Bananas", Teresa Bennett (pitching coaches wifey), Tanner and Asher. Bottom row is Jenny and I