Once we left Michigan, we were back on the road! Thank goodness, once we left Suttons Bay our trips were only 5 or 6 hours long! It didn't take us long at all to get to Kentucky! We were going to one of my bff's (Megan) house to stay for the night. Her and her husband Josh live in Somerset, KY..very pretty! We got there around 4:30 in the afternoon, headed over to her parents house really quick to say hi to them, then we were off to dinner! We ate at a little marina thingy then went to see their houseboat, um, hi..it was so nice! We left there then headed back to their house and played some cards! They both had to work the next morning, but Adam and I slept in until about 9:30 and then headed to Alabama! Hall-a-lu-yer!
Ohhhh, it was glorious. Arriving in Alabama. I mean, at times, it felt like we would never make it!! Our first stop was in Huntsville at my Dads. We had to pick my car up, but we got to visit with him for a few minutes. We had to hurry and leave though because we wanted to make it to Hunters baseball game! We were going to see my Dad the next day, so we quickly got back on the road and drove the last 2 1/2 hours to Tuscaloosa! We went straight to Taco Casa and got some food, then went across the street to the ball park! Let me tell you, watching little league baseball is way more entertaining than professional baseball! Those kids are hilarious! Hunter is the short stop in the team, and he's one of the best batters too! He even got a home run! I think Adam had a pretty good time! I love watching all of the Dads on the field, they get so intense, it's little league for goodness sake!!! Anyways!
My Dad got to Tuscaloosa Friday afternoon, so he took us out to eat at Dreamland. It's one of Adams favorite places to eat..they have the best bbq ever!
Saturday was the day that Adam had been looking forward to the entire trip. It was GAMEDAY! We went to the game with my Dad and my brother, my Dad has season tickets, so we called dibs on the tickets a while ago! Before going to the game though, we went tailgating! Tailgating in the south is so much fun..and if it means anything to you, ESPN voted Tuscaloosa to be the best tailgating spot in the country..haha whoot whoot! It ended up raining, but only for a few minutes, so some of the time tailgating was spent smashed up under a tent with random people! I've never seen so many ponchos! Adam and I went back and forth from the Jim Myers (baseball tent) and my Dad and brothers tailgating spot. My Grandparents, Jane & Guerry, were in town for the game, but they were big ballin' and sat in the Presidents box! Lucky! Adam got to catch up with some old baseball friends, it was a lot of fun! The game was a lot of fun..Bama won, so that always makes for a good day! Ohhhh my goodness, I just have to throw this out there. Where we were sitting there was a girl that was probably my age..she kept walking by and then I noticed it. She was wearing a little Alabama bow. Like, as in, what a child wears. It really bothered me because, lets get real, did she leave the house thinking that she looked good?..that some guy might stop and say,"Hey I really like your little baby hair bow, want to go out??" I think that if you no longer have any of your baby teeth, then it's probably time that you stop wearing the bows from when you did have your baby teeth. Aaah, I feel much better now.
Sunday Adam and I met my Mom at church at Valley View! I haven't been there in a while (well, not the church service, I did work at the pre school for 5 years before moving to Utah with Adam!). My Dad was going to go, but he forgot church clothes, so when it was over Adam and I met him at Buffalo Wild Wings for lunch before he headed back to Huntsville!
I am loving being back home. And since being here, I can tell that my accent is back in action. I'm afraid that I even caught myself using the phrase," I ain't got no...." the other day. Scary, I know..I like to think that I am smarter than that..but I guess I ain't!
Adam left for Florida on Monday. Sad day. Well actually, it was kind of good because I had to work at the pre school all week! And that, my friends, is a whole post in itself.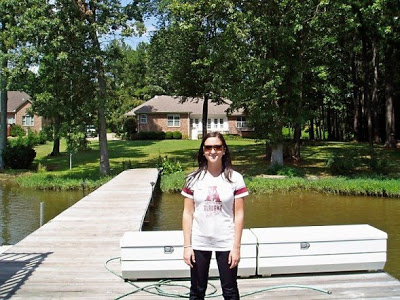 This was last time I was home, but my Dad is in the process of hopfully buying this booty-ful house on the lake in Huntsville!! Pray that he gets it, he deserves it!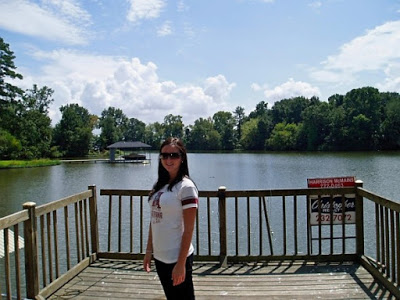 On the dock!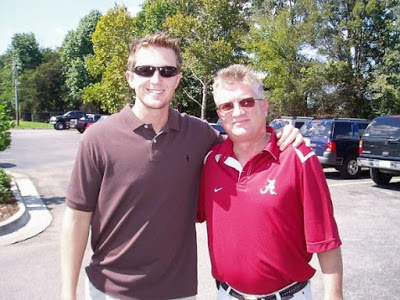 My Dad and Adam after lunch!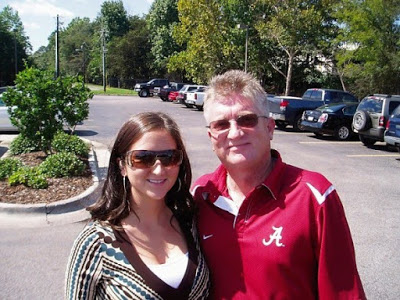 Me and my Daddy!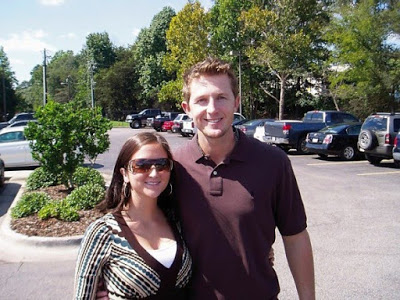 Adam and I, obviously.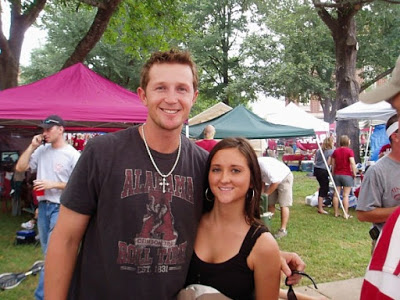 I am ashamed to admit that I actually curled my hair on gameday.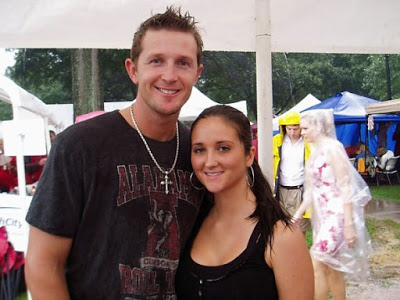 Down pour + humidity=ponytail!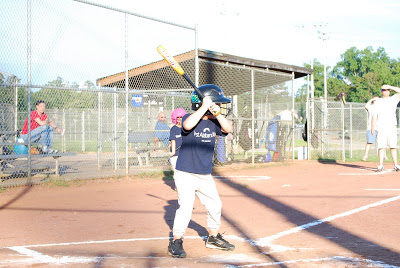 Hunter up to bat!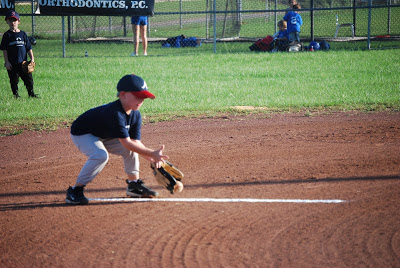 Doin his thang at short stop!