Friday afternoon, I finally arrived in Alabama! I flew into Huntsville instead of Birmingham so I could spend a few days with my Dad. He picked me up from the airport, then we had to get to the doctors office for his radiation treatment. When we got there he gave me a little tour of the place, and it's really nice..it's huge! The sweet nurses/techs even let me go in to see how they set my Dad up for the radiation..it's pretty interesting! That didn't take too long, we ran a few errands then headed out into the country to the house. We woke up the next morning and did a little fishing! My Dad lives on the Tennessee River, so you literally walk out his back door & BAM..there's the water! He's got a nice big boat, but it's still covered up for the winter, so we went in his neighbors little boat and paddled out into the water! We caught about 30 fish total, it was a lot of fun!
We got a few wedding things taken care of while I was there, too! We got the invitations & even went on a fun shopping spree for all of my dresses (for showers & the rehearsal), and I got some purtty shoes! Thanks again Dad!
I came to Tuscaloosa Monday afternoon after going to visit with Kristen in Birmingham. We went to Davids Bridal so she could get fitted for her MOH dress, but while we were there I ended up completely changing the dress that all of the girls are going to wear! I like it much better than the ones I had picked out before, and I think the girls will appreciate the fabric on the new one compared to the old one..ladies, you're welcome...no Spanx necessary for the new dress :)
Today was a pretty busy day for me, too! I ate lunch at my Grandparents house with my cousin Jordan, went to see my Mom at work, then headed over to see Page for a little bit! While eating at MiMi & Pop's house Jordan informed me about the gym he goes to having an ab class tonight. Well, we all know I could use a good ab workout so I went by the gym to see if they could give me a 1 month membership, and they did! I met him at the gym for the class and it whooped my boootay!
Anywho, tomorrow I will be going to take some clothes to Goodwill then church with Mimi & Pops...oddly enough, I have yet to go to Taco Casa..I think I will wait until Rah Rah gets here on Friday..she's coming home from Germany for a few weeks! Whoot Whoot!
Whelp, that's all I've got for ya today folks..holler back youngin' ooooh ooooh!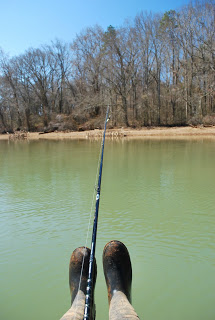 this isn't the most flattering picture I've ever taken, but it's not that often I catch a fish..so please excuse the long Johns..it was a wee bit chilly,,,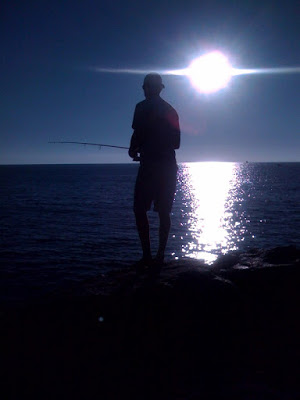 my Dads backyard!..well I guess it isn't technically a "yard"..but you catch my drift.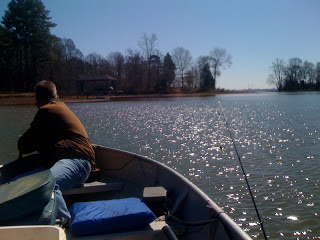 the little cove that my Dad lives on is a fishing hot spot, so we had to wait until that guy left so we could float out there and catch some fish!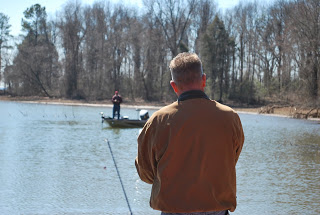 My Dad!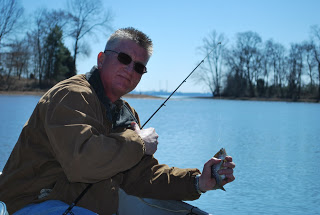 one of the many fish we caught that day!