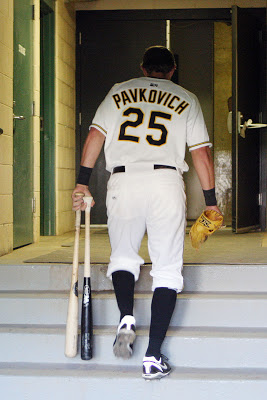 Well, I hope your sitting down while reading this..because if you don't stalk me aren't my friend on Facebook, this may come as a huge surprise. The past few days have been a roller coaster of events and emotions for the both of us. Adam quit the baseball team this past Sunday. It's been floating around in his mind for quite some time now, and on Sunday the decision was made. Needless to say, when I got a text message saying "I'm about to make a big decision, I would like to talk to you first" I knew what it was about. It's not like he just had a few bad games and gave up, though. It's been a rough ride ever since last baseball season in Salt Lake City. He didn't do as well as he would have liked to last season, and when this off season rolled around and finding a team to sign with looked less and less likely..that's when it all started. Independent ball (for Adam at least) means that the end of the road to the big leagues is nearing. And that's the whole goal for Adam, get to the big leagues. My heart is broken for him, he's worked his whole life to play just one game in the big leagues. We both know that even getting to triple-a is a pretty big deal, so he's not ungrateful for the past 5 years in SLC at all. We just weren't expecting it to be over this soon. Trust me when I say I spend every night praying that this is God's plan for us, the baseball life or the real world, and if it's not then I pray we seek his plan and that's where our comfort lies. The shock is slowly wearing off and now it's really time to take care of bidness! We were very grateful to get to experience everything we did while in Long Island. It was definitely something that we will never forget (look for a post in the near future about a few happenings that went on during our one month stay). But I must say, I won't really miss that place! I can't help but be a little bit excited about what's going to happen in the next few months! While, baseball is all we know and all we have been surrounded with during our 4 1/2 year relationship, it's probably going to be a little weird to not have to plan every. single. thing. we do around baseball. But like I said, there's a lot of planning going on right now about the future.
Adam got drafted out of the University of Alabama as a junior so he still has to finish school. That is the number one priority. He is a Finance major, but that's not really something he's interested in doing. So right now he's trying to figure out what he wants to finish his degree in. We've talked about everything from a Business degree, all the way to him going to Med School. The latter one being an adventure in and of itself, but he's pretty much a genius and could totally do it. Then there's the desire for him to be a baseball coach. But like, high school? College? Minor leagues? Who knows!
Anywho, so that's the low down on what's been going on. As soon as Adam called me on Sunday, he started packing and when I got off work I went home to finish. We left New York Monday morning and drove all the way to Fayetteville, NC. We drove from there to his parents house in Venice, FL yesterday and we plan on being here for a few weeks until we can figure out what to do from here. A lot going on, that's fo sho! Oh hey, I have a brilliant idea..let's get married sooner!!! Yeah, or not. But seriously, HURRY UP OCTOBER!
Well, that's it for now..if anyone needs me you can find me on the beach getting my tan on. Holla!