I love how I ask Adam to write a blog, and then he only writes two sentences. I guess that just leaves me with a bunch of non sense to write! Whoop-di-dooo...
I would like to start off with Roll Tide. If you are not aware, Alabama beat (barely) LSU this weekend. Yep. Thank You. And thank you. It was a close and very ugly game, but, a win is a win these days. If I could I would go hug and kiss every LSU player that played so horribly that led us to win. I am sure Adam wouldn't mind.

Still no word from Mexico. It looks like it's not going to happen. Adam is giving it until Thursday, so if we don't hear from them by then, he is shutting it down and telling his agent to not worry about it any more. Adam wants to go to Alabama for about a month and work out at the Alabama facility. The only problem is trying to find a place to live for a month. No apartments there do a one month lease, so it has been pretty difficult to try and find a place. He usually lives with a few friends, but it seems like all of them have moved away. So if any of you know anyone that would like a wad of money and a roommate for a month, send them our way!!!! :) But, if nothing works out then he is just going to stay here in FL and I will go home. Very frustrating!!!!

Adam and I have spent the majority of our time locked up in his room. He bought a new xbox game and I bought a game for the computer, so we have been playing those all day, every day. I bought The Sims 2 and let me tell you, it is VERY addicting! I used to play it all the time in high school, but they have improved the game since then. On Saturday night we went to a comedy club for one of our friends birthday. It was A LOT of fun! The guy was really funny! I am sure that we will be going more often.

Have a good week!


The pictures are of me playing Guitar Hero on the xbox. I thought that I would share with you my new rocker moves...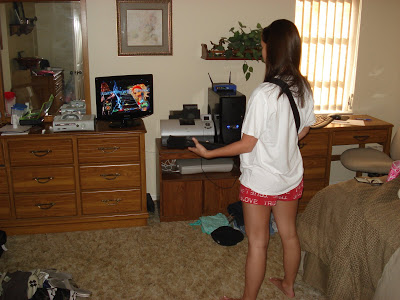 I should have worn more rocker-looking clothes...but, due to the fact that our laundry was piled up to my eyeballs, I had to borrow some of his sisters shorts..thank you Kara :)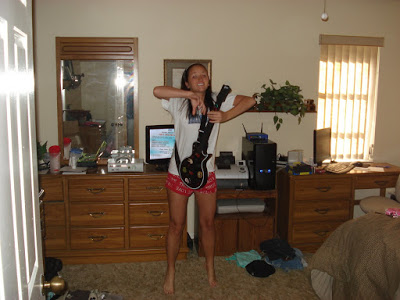 Get ready....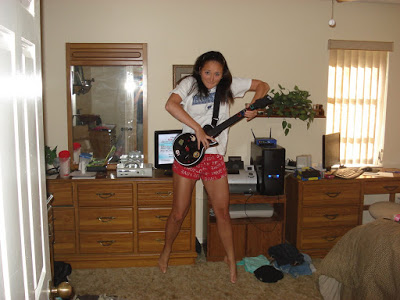 Get set...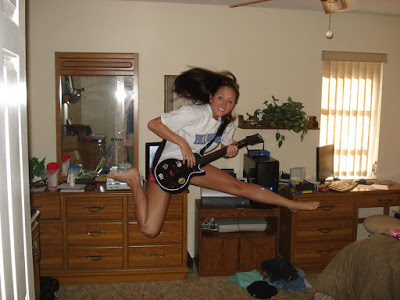 GO....I didn't know I still had the cheerleading moves in me..if only my toes were pointed this would have been a decent herkie :)