..of hearing about Obama! Thank goodness the election is over with! The next few years are definitely going to be interesting. I have never been into politics but last night for some odd reason I was! Ok enough about that.
Not too much has been going on since the last blog. Yesterday Adam and I took it back into the day and went rollerblading around his neighborhood. It was definitely a lot harder than I remember! Adam was of course a pro as soon as he put them on. That doesn't surprise me. After only one time around the neighborhood, I was ready to go back inside! We are going to go again today, I think.
Still no word on Mexico. I wish they would hurry up and call so I could figure out what I am going to do! I have been informed by my 5 year old nephew that I need to be at his Thanksgiving lunch at school on the 12th. I am hoping I will be able to make it! Even if Adam doesn't go I will still go home for probably 2 weeks, through Thanksgiving. For now it's still a waiting game, and I am tired of waiting!
You have probably noticed that I keep changing the layout of our blog ( or, maybe you haven't). I found a website (
http://www.thecutestblogontheblock.com/
) with realllly cute layouts, and I am having trouble decided on just one, so I think I just am going to change it all the time!
Well, I don't really have anything else to write about! I just noticed though that Adam has not posted a blog in quite some time, so I am sure he will be next.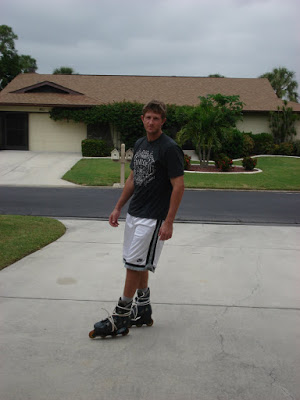 Adam rollerblading..please notice how he has them tied on. They have been in the garage unused for atleast 10 years, so all of the straps snapped off when he tried to buckle them.