We have been back in Florida for a couple of days now, and we are both very relieved to be back in the country! We had quite the experience on our way back (our flight on Tuesday was cancelled), but we made it and that is all that matters!


As soon as we got home on Wednesday we took a much needed nap, then for dinner we went to Beef O'Brady's and ate a huge basket of hot wings and french fries which was amazing! We also had to run around town to get our Halloween costumes! We were very excited that we were going to be back in time for all of the fun festivities! We decided that we were going to be Rednecks/hillbillies and we found everything we needed at one store!
Since we have been back, Adam has been talking to his agent about getting set up with another winter ball team. His agent called him while we were eating at Chili's last night and told him that he will be going to Mexico to play for a team called Yaquis de Obregón. I don't think it is 100% for sure yet, but most likely that's what will be happening within the next few days. I will not be attending this trip :) I am sad that we won't be together, but it won't be for too long, and I will get to spend a lot of time with my family! So, I know that it will all work out. He is going to try to work it out where they will fly me down (or over, wherever) to visit for just a few days. So we will keep you updated on all of that!
Last night for Halloween we went out with a few friends to a few different parties. We went to a house party for a little while, then headed downtown to a big block party. There were a lot of funny costumes. It was crazy how many people were dressed up as Michael Phelps and Sarah Palin. Not too many people were dressed up like Adam and I though! Our names for the night were Earl and Bobby Sue. Adam had a mullet wig with a bandana and he wore a cut off plaid shirt with his jeans tucked into his boots. I had a wig with a bandana too, and I also had a black eye from all of the beatings I take from Earl :) The best part of my costume was my fake pregnant belly and the fake cigarette that I had in my mouth all night. Every once in a while when a lot of people were around Earl would punch my pregnant belly, it was really funny.
I hope everyone had a great Halloween, we are going to get ready to watch the Florida vs Georgia football game! Check the new photo album for the halloween pictures! ROLL TIDE!

*Lindsay*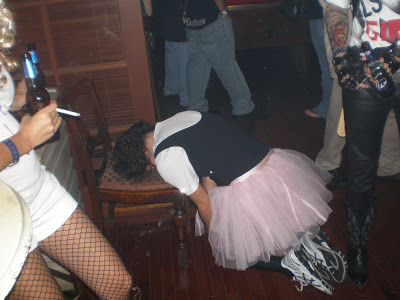 Our friend Zack was dressed up as Ace Venture Pet Detective when he is at the Mental hospital (if you have seen the movie then you should know what I am trying to say)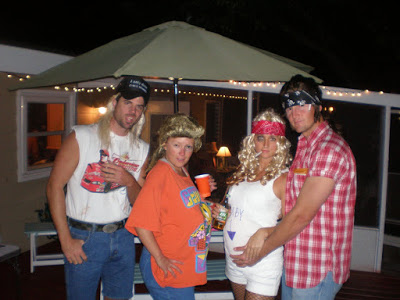 We found some of our cousins at a party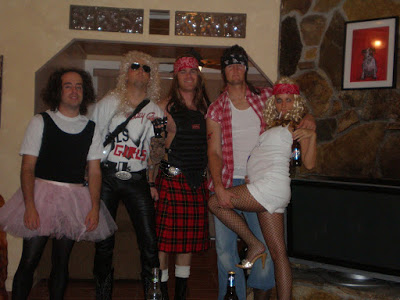 Before we went out. Ace, two Guns N Roses people, Earl and Bobby Sue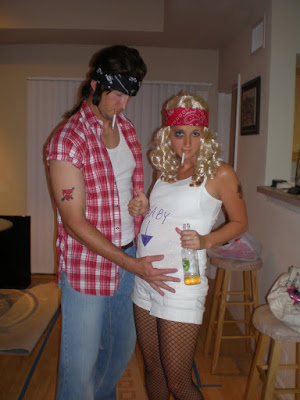 Earl can't wait for our son Buck to get here. :) Earl says smoking while pregnant puts a little hair on the babys chest