We have just been on the go! That, and honestly, I just haven't felt like blogging. Now I feel like I have so much to catch up on that I don't even know where to start.
Adam has been doing alright in baseball, right now his average is .239 and in the last 10 games played he is 10 for 36. We worked on his batting stance the other night and after the game last night he said he felt a lot better about how he was seeing the ball. As the season is nearing the end, there have been a few articles about Adam. He has been in SLC for 5 seasons so at this point, he has broken a trillion franchise records. I actually just googled Adam and found
this little video
, it must have been taken today. Many of the articles have talked about how he has struggled this year, so it's kind of frustrating, but they are mainly just about how his time in SLC is almost done. Adam will (finally!!!!) be a
free agent
this year. I can't wait to see what happens and where we will be next year!!
Hmm, what else. Oh yeah, we went to Vegas for a few days. It was a quick but fun trip! Adam and I succesfully made it out of Vegas for the past 3 years without getting married.
Hall-a-lu-yer!!!
For some reason, this trip was a lot more fun that the others which is weird because at night after the games it was just me and the guys! We would just go hang out by the pool at night since that was about the only time it wasn't scorching hot. One of the nights we went to a casino and I watched them all play Blackjack. That's about all we did, the rest of the time was spent at the field or just people watching! They had a double header on the last night, and an off day the next day. So being the lunatics that we are, we drove back from Vegas after the double header. We left Vegas at about 12:00am which meant that we drove
all
night
morning long.
We got back to Salt Lake at about 6 am. Not fun. We spent much of the off day sleeping, Adam and the guys went to the community center pool to jump off of the high dive, and then we stayed up all night long because we had slept in so late. So, needless to say, I am still a little thrown off by our recent sleeping schedule, but I am recovering!
I will be heading back to Alabama in exactly ONE WEEK! Ssshhhyyeeaahh baby! Can you tell I am excited? The main reason I am going back is because I am in one of my best friends wedding on the 15th. I am flying into Huntsville on the night of the 13th, spending the night at my Dads, then I have to get up bright and early on the 14th to make it to the bridesmaid luncheon at 10:30 am. Then that afternoon I have the rehearsal dinner after the actual rehearsal! I am going to be so busy that I won't even get to see my Hunterboo until the 16th :-( I think I am going to surprise him and show up at his school and eat lunch with him!
On the 18th the Bees are playing in New Orleans against the Zephyrs so me and my cousin Anna Lisa are going to drive down for a few days and watch some games! Woo Hoo! It's going to be fun because Candice and Lori are going to be there! I can't wait! I am coming back to SLC on the 28th then after that the countdown will begin until it's the OFF SEASON! Whoooo de whooo!
Our plans for the off season are still unknown. Adam wants to go to Florida, I want to go to Alabama, he might go play winter ball, he might go play winter ball and only be gone a week, he might go play and be gone for months. Who knows! That's the life of a baseball player though. You can't ever make plans. Which is fine, I just have to get a j-o-b wherever we are!
Well that's all I have! Gotta go to the game! Ta-Ta!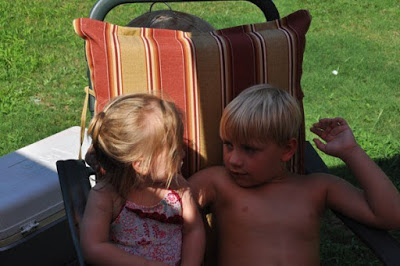 I can't wait to see these kiddies!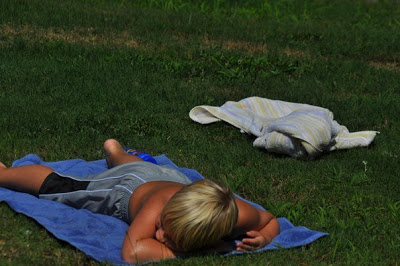 Maybe Hunter and I will even do a little bit of this! Looks like he got his sun worshipping genes from me!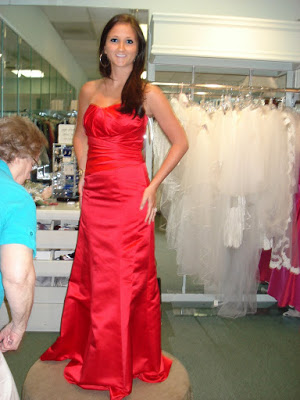 This is my bridesmaid dress...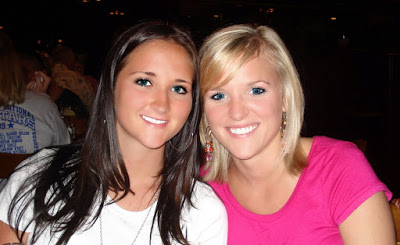 ...that I will be wearing in her (Brittney) wedding. Pretty!