Reason #1
Uhhh hellur?!?! Valentine's Day!!
Now, when Adam and I first met I had recently broken up with my ex-boyfriend of 2 years, so when February rolled around I was like "awesome! Perfect for Valentine's Day!" -can you smell the sarcasm?? I vividly remember having a piece of paper or something hanging on our refrigerator about "Valentine's Day Hater Club..President-Lindsay." I'm definitely one of those peeps who thinks V-day is a big deal..you know, because I am kind of a big deal. But I digress.
That Valentine's Day Adam left a rose and a card in my room for me to find..but I think it went down like this: I came home early, walked back to my room, then ran into Adam in the hallway. All while wondering why he was there when I wasn't. But clearly, I found out why :) I still have the card and the rose....somewhere.
I think that's the only Valentine's Day that Adam was actually still in town for. Spring training usually rolls around mid-February so most baseball couples aren't together for it..boo hoo, I know. But, ladies & gentlemen this year we will be together! Awwww snap! We have decided to make it fun & interesting by going to Goodwill to get each other a "gift". I'm sure it will turn out to be a total joke but at this point do we really need to spend $200 on a gift for each other? Negative.
(this picture was taken many-a-years ago..I think this is actually my 20th bday)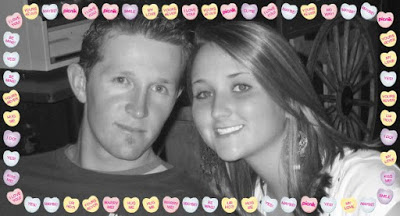 Reason #2:
yes sir-ee-bob! I'm turning the big 2-4! I'm not really sure if there's anything
too incredibly
special about "24" though. Anywho, this year I am hoping I get
this little thingy
. It's the Flip Video Camera (120 minute HD) and you just record your video (up to two hours at a time) then hook it up to the USB on the computer and it downloads onto your computer then you can start recording again! So,
ahem
, Mom & Dad..I'm just saying...