Happy Friday peeps! Yesterday I took time out of my glorious day to document what we did. Times and all. Which is harder than you'd think it'd be.
So for wondering minds..here's a day in the life of a SAHMBIRBWEIMMK (stay at home mom but i'd rather be working except i'd miss my kid)...
7:03 AM- I hear a little voice over the monitor. I immediately turn the monitor off and pretend I never heard it.
7:19 AM- I feel bad (this rarely happens) so I get up and head to the kitchen to make her a waffle and cup of juice...all with one eye open. Then I go get her out of bed, put on a fresh diaper, and we head back to our bed where she watches Mickey Mouse and eats breakfast.
Adam is still sound asleep.
Naturally.
7:45 AM- Adams alarm goes off but he's already been woken up by Presley sitting on his pillow and playing with his ears.
7:56 AM- We go into the den, I dump her box of toys out, and I plop down on the couch while she plays!
8:26 AM- Adam leaves for work. Presley sits at the front door and cries. Adam eats that up and comes back in to hug her. I am still sacked out on the couch.
9:15 AM- We head out the door to run some errands. Sally's is the first stop because I've accidentally dyed my hair red and we need to fix that ASAP. Then we go deposit a check into the bank. CHA CHING! (just kidding we still have the poors)
9:47 AM- PDizz and I witness a dog TAKE A DUMP on the sidewalk outside of Pet Supplies Plus. We both stand there and watch like total boneheads. We then head home. I fear that this is the most excitement we will have all day.
10:00 AM- I feed Presley yogurt then toss some goldfish at her to eat. I'm lazy like that.
10:18 AM- I put her down for a morning nap and then watch a few YouTube videos (nerd alert)
10:45 AM- I'm elbow deep in hair color. I know nothing about the mixing proportions so I'm living on a prayer here and hoping for the best.
Wow, I have a lot of hair.
OW OW OW MY SCALP IS BURNING! It probably has nothing to do with the fact that I poured the whole bottle of developer into the color mixture.
Oh well!
11:15 AM- While the color sits I make a sammich and watch House Hunters...I picked house #2 but the buyers went against my advice and chose house #1...RUDE!
11:40 AM- Presley is still asleep so I shower and hope I still have hair left on my head at this point. Adam also comes home for lunch.
12:00 PM- Presley wakes up and I blow dry my now dark brown hair. HALLALUYER!
12:13 PM- Adam leaves to go back to work, Presley is playing with a box of tampons, and I am still blowdrying my hair. Somehow this isn't exactly how I pictured how my life would turn out but it did.
12:30 PM- I feed P lunch (Morning Star chicken nuggets and cut up strawberries) and I put on make up. Then I load THE WORLDS LOUDEST dishwasher. Super annoying.
1:34 PM- We head to the splash pad
2:15 PM- We leave splash pad because Presley got her hair wet and now hates life.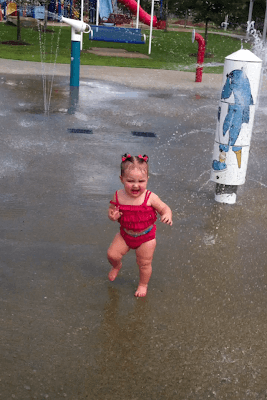 Hating life.
2:35 PM- I drive to a woman's house to pick up some sort of dog shots for my Moms rescue dogs. This woman lets her dog Betty lick my arm and I am having an internal anxiety attack as I hate dog slobber.
3:34 PM- We are finally home
3:51 PM- I feed Presley Mac N Cheese while she watches Barney
4:09 PM- She goes down for a late nap
5:13 PM- Presley is still asleep and UPS delivers her new shoes! YAY!
5:53 PM- I lose my marbles and wake Presley up. Then I text Adam and tell him that I need hot wings in my life and that I will not be cooking dinner because the VMA's are on and I'm 13 again. (side note: super disappointed in the VMA's last night)
6:28 PM- I shoot Presley in the leg with a Nerf gun and she goes absolutely ape shit on me. Then she brought the dart back to me to do it again.
7:?? PM- Adam gets home, I've had a change of heart and now want Moe's. He turns around and retrieves my food because I'm a princess like that.
7:44 PM- I feed Presley dinner then we play some more
8:42 PM- Presley is still awake. We are still in the floor playing together and she's at least in a good mood!
9:00 PM- I throw in the towel and take her to bed. I then leave to go grocery shopping at Wal-Mart. It's as fun as it sounds.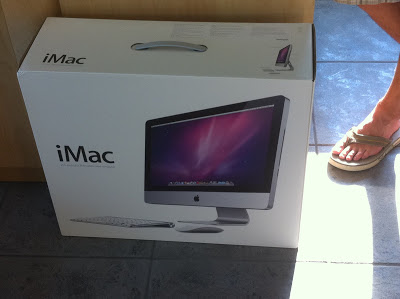 10:03 PM- I am home and unload the groceries..then I hit the hay!
**Just kidding I don't go to bed that early, I stayed up until 11:00 trying to pass The Moron Test 2 on my phone..............................**