Cutting the grass that is. You probably didn't know it, but there is a jungle in Bradenton, FL..and it just so happens to be in our backyard. Actually, it is our backyard! At the house we are staying at, the grass hasn't been taken care of, so I went at it today! Not only did I weed whack it first BEFORE I brought out the mower, but I did all of this while somehow managing to keep the Hoover Dam from flooding..aka my nose has been running non-stop from a cold ;) The grass was about a foot tall and there were many ant beds and other creatures who, sadly, lost their home today. All of our neighbors have their yards perfectly cut, but ours was just ridiculous..I mean, you would have thought that SOMEONE would have just ran their mower through our yard, it's not big! But, we got the job done and now it is nice purtty!


Yesterday was Adams birthday, so we headed over to his parents house for dinner. His Grandpa, aunt & uncle, cousins, sister, and her boyfriend were there to celebrate, it was a lot of fun! After eating and hanging out with them we hurried back to our house and changed our clothes to go out for New Years! We went with a big group of people out to a place called Ceviche. It was a Spanish type bar/restaurant and it was packed! It's a 3 (maybe 4?) story building, the restaurant being on one floor, and two outdoor patio bars on the others! It was fun to hang out with everyone, not to mention the food was sooooo good! We stayed just long enough to ring in the new year and then we headed home! I was not feeling too hot that day (sinus/cold) so we had already decided to not stay out late. We got home and I took two Benadryl and I was out cold!
Tomorrow Adam and I are going up to Tampa to shop at the International Mall. I still haven't got Adam a Christmas or birthday present..I know, I am such a bad girlfriend! But, I decided that it would be better, and easier, if we went to the mall and he could pick out whatever he wants!
The pictures that we are posting were taken with our new camera which I am TOTALLY in love with...best thing ever!!!
Adam and I at his parents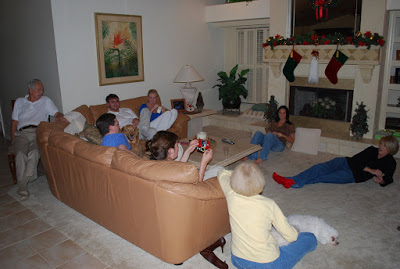 Just hangin' out!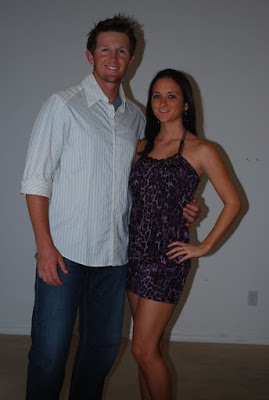 Ready for New Years!

Notice that everyone elses yard is perfectly mowed, and then there is our jungle. That is what I was working with...

Step 1: Weed wack the whole yard..yes, in ugg boots..totally necessary.