Ok, I lied in my last post. I said I "will probably be posting pretty often" but then something glorious happened. We moved out of the Sheraton and into a great apartment! Hall-a-lu-yer! See, when we were staying at the Sheraton, Adam was down in the lobby talking to the manager about getting us a lower price since we'd be staying there for 5 months. It just so happen that one of the front desk women over heard him and came to the rescue. She told Adam that her in-laws had a basement apartment that they would probably rent out to us. Um, heck yes! She said that she'd call her husband and get more info on it. He came to the hotel and talked with us, told us all about it, then asked when we would like to go take a look at it. He obviously didn't know how desperate we were because we already had our car keys in hand, ready to go before he even got there. We don't play around homie! We ended up going that night and I promise you, as soon as we walked in the door we were sold. Their other son built it when he was in college, it's got new carpet, new pain, & they just put new windows in. And it's super cheap! Cha ching! They're only charging $900, and the team is paying for $400. It was an answered prayer for sure. The day before, Adam and I were on the verge of loading up the truck and driving back to Alabama, then this came along! The only downside was that it isn't furnished, but luckily the team gave us some furniture. We've got a tv (thankfully we have cable), couch, chair, coffee table, side table, and a bed. The basics, pretty much. We hate to buy a bunch of stuff, because we won't be taking it back with us when we leave. So, you can only imagine what kind of shopping spree we went on last night at the Dollar King. I kid you know it was like Super Market Sweep-Dollar King style. We got some kitchen stuff we needed, hangers, a broom, and junk that I can't even remember. So slowly but surely we are settling in!
Our landlords that live upstairs are super sweet. It's an older couple and they're both retired, so they're always home. Which is cool. Except when they wake up at the butt crack of dawn and start their house renovations that are going on. They're names are Egon (pronounced A-gon) & Audrey. They have a few kids (two of the sons are cops..uhh hellur, it's always good to know a few po po's) and they all live within a block of the house we live in. We live in a town called Sayville and it's on the water, and really safe. Egon & Audrey say it's so safe that they don't even have to lock they're doors at night. Good to know, but we aren't taking our chances! It's also really close to the field.
So, we are settling into our new home, finally unpacked everything today. Now let's just hope and pray we can get out of here as soon as possible! Adam called his agent yesterday to see if any affiliated teams were interested and he said it's a little early right now. Our goal is to just be here for a little bit and then get picked up by a regular team.
Right now Adam is in "spring training". He says the field is nice, it's like a regular triple-a field. They guys on the team are a little rough but that's what you get in Indy ball. There's a guy on the team that played at Alabama a while ago (Dustin Mohr) and that's who he hangs out with the most I guess. They had their first "game" today and Adam said he played really well. They first game of the season is on the 22nd of this month, then they leave for an 11-day road trip..looks like I need to start job searching so I can stay busy!
I will post a few pictures of the apt (before the furniture) below. Mind you, it's definitely not what we have stayed in during the past few seasons, but it's nice :) Also, we went to NYC a few days ago, then we went up to Yankee Stadium to watch a game, I will post about that soon! We don't have internet up at the hizzle, so we have to come to Borders..consider yourself loved :o) Holler!
from the kitchen. the front door is right to the left. Ohh Ohhh, you're jealous of our hunormous tv, aren't you?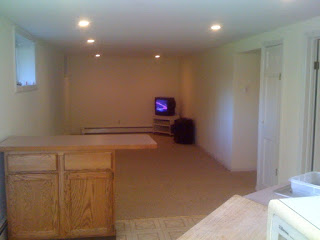 Kitchen, pretty basic. Good thing I'm not a cook ;)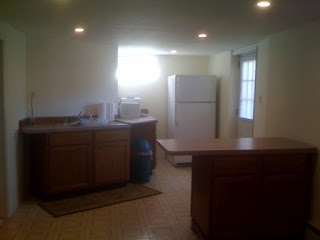 Bathroom and closet..this place has 3 big closets!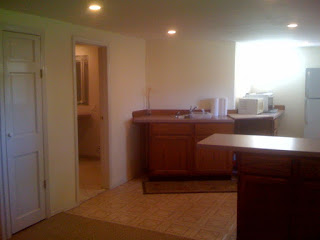 the loo.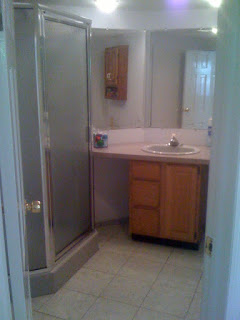 hallway to the bedroom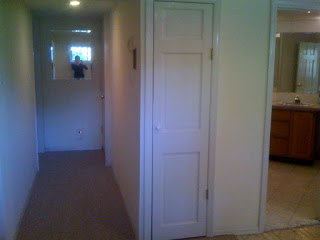 bedroom. That's about as plain as it get's peeps!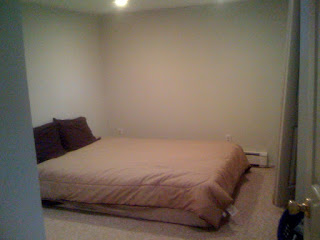 the past few days we've been sleeping on an air mattress, so you can imagine how thrilled I was to see Adam pull of in this sweet ride, delivering the mattress and box springs. HA