Oh hey! I'm sure by now you've all forgotten who I was and why in the nameofsweetbabyJesus I've been MIA. Or not. But that's cool. Can we just all pretend that I participated in the 2nd half of Lent and decided to give up blogging? Mmmkay. Perfect!
It's been so long that I don't even really know where to begin to catch up! oh HI, Adam made it to Alabama! Cha Ching! He got here last Monday and I've been happy as a lark ever since! We've been staying at my brothers house, except for one night when Adam went up to Fayette and stayed with his/our friend Evan Bush. They practiced some baseball up at Beville State (Bush is the assistant coach) then they did a little bit-a-fishin'. It was actually perfect-o because I got to stay at my Moms house and sleep in my own bed! Since he's been here we've hung out with the fam, gone to Hunters baseball game, at way too much food, went to Huntsville for the weekend, and tomorrow we are getting a bunch of wedding stuff done! We're going to pick out his wedding band, pick out the tuxedos, then take a Xanax and have a few drinks before we do the dreaded registry process. I would like to be more excited about registering but I've really only heard horror stories. The guy wants tools while the girl wants the pretty little lemon squeezer that will probably never get used because why why WHY in the heck would you want to squeeze your own lemons when we all know that Simply Lemonade is THE best thing ever put on the planet?? Exactly my point. But it's got to be done. And I am just hoping that we both make it out alive.
This past weekend Adam and I drove up to Huntsville to hang out with my Dad (who is D-O-N-E with all of his cancer treatments and is on the road to recovery! Praise God!). The weather was beautimous, which made for a perfect boat ride when we got there! I've probably already said this 20 times but my Dad lives right on the Tennessee River, so we just walked out to his dock and off we went! We ate dinner at Tokyo, which, uhh hello, is going to be the reason I get offered Shamu's job at Sea World pretty soon. No joke..fried rice with the shrimp sauce..HOLLER! The next morning was rainy/cloudy so we decided that we would go to the US Space and Rocket Center until the bad weather passed. I've been there a billion times (we lived in Huntsville for a few years when I was younger) but Adam has never been. He could have spent all day in there, but the sun was finally shining and he wanted to fish. He and my Dad fished, I cut the grass (because I am awesome like that), then we hit the sack. We left kind of early because we wanted to get back and see what the Easter Bunny brought Hunter and Taelor. Everyone ate lunch over at Mimi & Pops' house where we played in the backyard for a little bit! Adam had mentioned about going to the Alabama vs Auburn baseball game, so we decided to take Hunter and he had a blast! Adam took him up into the press box during the game. When the game was over Adam took Hunt into the locker room to look around. There's always perks to having an Uncle that played for Bama!
I know there is so much more to update on, but that will have to wait, otherwise it would take you 4 days to read this post...so until then enjoy all of these pictures..and there's a whole lotta lot!
the epitome of redneck baseball..using a paddle as a bat! Robby is being crazy in this picture!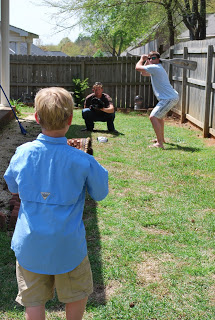 Happy Easter! My favorite people!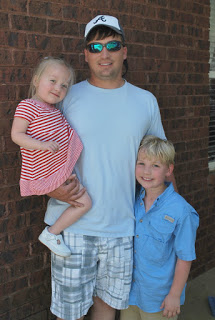 Go Pirates!
My favorite picture of Taelor & Shadow!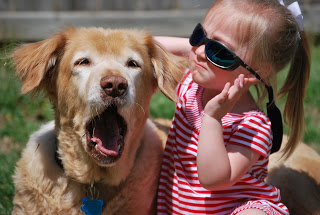 pissed off here. I wouldn't let her have the camera and she threw a fit!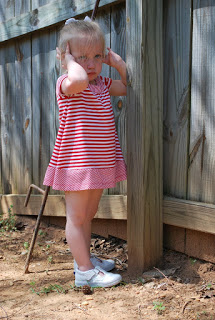 Robby & Taelor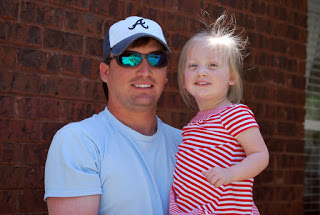 Making a funky hair-do with his sweaty hair!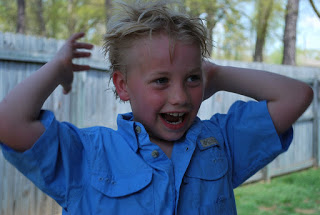 Toasty fishing at Dads! He ventured off into the mud!