Happy Father's Day! Adam and I are very blessed to have our Dad's
(and my wonderful Step Dad!), and Grandfathers in our lives. My Dad does
everything in his power to make sure that I have everything
I need, he's always been encouraging, and is always there for me when
I need him! I'm so glad Adam's Dad taught him so many important
life lessons and has been such a great role model for Adam throughout
his life, I know that Adam will take everything he's learned from his Dad and
Grandpa to be a great Dad to little Presley! We hope they've all had a
great Father's Day today!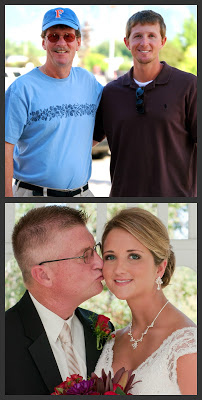 Today Adam and I spent the day out in the country at Kristen's parents house.
I usually go lay out here every weekend rather than a public pool, because
let's be honest...an almost 9 month preggo woman in a bikini
may cause a few head turns and stares! So today we headed over to their house!
It was her sisters birthday party so they were cooking out also! Hello!! I was
a hungry hungry hippo and ate two cheeseburgers! It was fun, Kristen was actually
there so we got to hang out for a bit, too!
After we ate Adam went and picked some fresh blueberries to bring home.
I have a cold so after I sneezed 413 times in a row we came home so
I could lay down. Adam got us Subway for din din and now we are
watching the Miss USA pageant. We only watch so we can see if
any of the girls will fall or not. Sad, but true.
Here are some pictures from today! You can click on the collage to make it bigger.
I go to the doctor tomorrow for my weekly checkup!