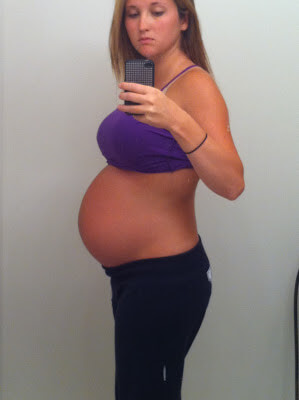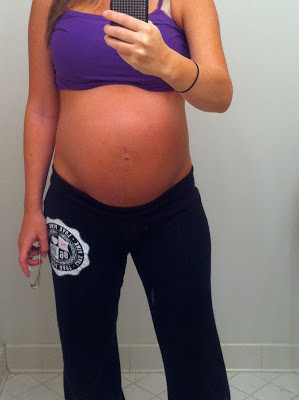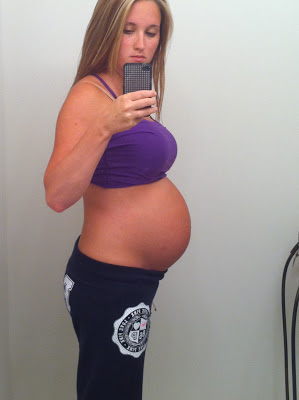 How far along?
33 weeks. Like I've said before, I'm not ever sure when to actually do these updates. I usually post these a week behind so I can go through the entire past week. Probably doesn't make any sense but it's a little late now, don't ya think?
Total weight gain: The last appointment I had I was up 25 pounds. Let's not talk about it mmkay?
Stretch marks? None!
Sleep: Not that great, but I'm not really expecting it to be at this point. To be honest, I'm not expecting much from anything at this point. There's nothing positive about the last handful of pregnancy except that you can finally see the light at the end of the tunnel.
Best moment this week: Still enjoying pool time. I spent the majority of the weekend feeling weightless while I floated and it was stupendous. What really sucks is when you get out of the pool and are then reminded that you weigh as much as a bus.
I also went up to Birmingham to meet Kristen and Page for dinner at the Cheesecake Factory! It's my favorite place evah and it's been rumored that we may be getting one here in Tuscaloosa.
Yeah boyyyyyyyyyyy!
Worst moment this week: Adam eating tuna for the past two nights. It baffles me how he hasn't grasped the meaning of "please don't eat tuna because I can smell it from a mile away and it makes me want to barf all over your pillow".
Surprisingly, that's my only complaint this week which has got to be a great improvement!
Movement: Long story short: there's just not enough room in there for little PDizzle. I'm pissed. She's pissed. We are all pissed. It's cramped and movement hurts.
Food cravings: Sonic! Dare I say they spank any other place in the world for the best drinks?! Is it just me or are soft drinks better when they're served in styrofoam cups?!
Gender: Girl-Presley Grace!
Labor signs: Unless "constant growing of multiple chins" is a sign of labor then I think I am in the clear.
Belly button in/out: That bad boy is really beginning to tick me off. It wants to be an outtie so bad but it just doesn't have the balls guts to just go for it and pop.
What I miss: Being able to get out of bed without "rolling" off. It makes me feel like such a fatty. I also miss not breaking the toilet seat every time I sit on it. Seriously, the seat is coming off the hinges and I am only blaming myself.
Symptoms: Constant peeing, horrible lower back/hip pain, exhaustion, heartburn...the list goes on.
What I am looking forward to: Well, there's lots going on during the next few days! My Dad is getting married this week! We should be getting an ultrasound tomorrow or Friday, then on Monday we are having our maternity pictures made!
Let's all take a moment of silence for the forecasted 100 degree weather on Monday.
I am tempted to hire someone to fan me for the entire session so I'm not profusely sweating in all of the pictures.
Whelp, that's one more week down...PEOPLE!! Do you know what this means? I'm almost done cooking this meatball!