**Please excuse the nasty-ness that is my bathroom mirror. A certain blonde-haired, blue-eyed 3 year old thought it'd be fun to put lotion all over it after her bath**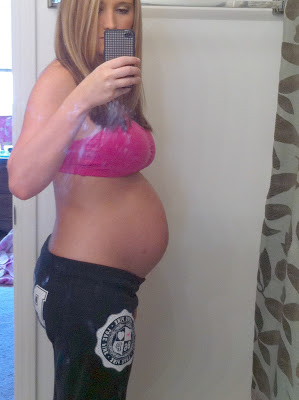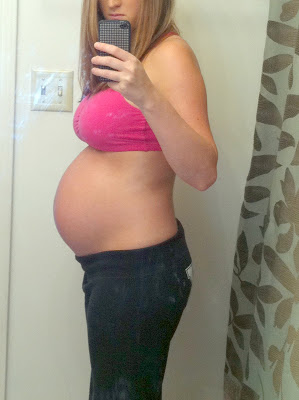 **Same day, different pants, cleaner mirror**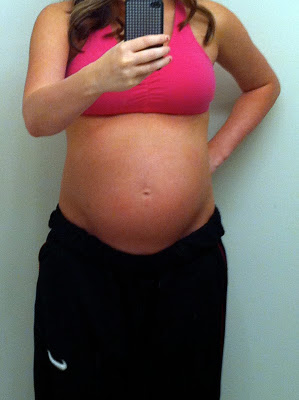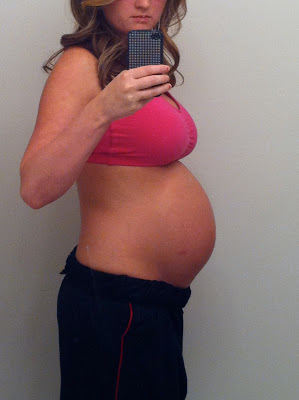 How far along? 29 weeks! Hall-a-lu-yer! Only a few days left and I will be in the 30's, which seems like it's going to be the homestretch! Will I actually survive pregnancy?
Total weight gain: 17 pounds. Oh wait, but probably about 19 now because I had Benkei for dinner last night, not even one grain of rice was left on my plate.
Moo.
Stretch marks? None! I really hope those little boogers stay away!
Sleep: I ended up buying the Boppy Pregnancy Pillow. Changed. My. Life. I've started to get up more often to pee again. It was a nice little break for the few weeks that it subsided, though!
Best moment this week: Really? Do you even know me at all??
Movement: I'm trying to recall a time when she hasn't been moving. It's now to the point where it takes my breath away. Super uncomfortable. Oh, and she literally "kicked my @$$" the other day. She kicked, and I felt it in my butt. Someone please tell me this is normal?
Food cravings: Krispy Kreme. And trust me, I am only craving it because it's no longer there from the tornado. They put a sign out saying "We Will Rebuild" but sweet mother, WHEN? Fatty's gotta eat!
Gender: Girl!
Labor signs: I officially had my first BH contraction. It didn't hurt, but my stomach was definitely getting rock hard! I'm not sure how long they lasted because I ended up falling asleep. As you can tell, I was obviously very concerned.
Belly button in/out: I mean, it either needs to go back in, or pop on out. I'm tired of the half&half. Please, dear bellybutton, entertain me and make a move!
What I miss: Everything. Normal looking skin, non maternity clothes, being able to breath, the ability to bend over..shall I go on?
Symptoms: I've added this category to the survey now that I actually have symptoms worth noting. This past week I've been super duper ache-y. Like, in places that I didn't know were supposed to ache?! Are you catching my drift or should I elaborate more? Because if I just need to come out and say that my vag has been aching then I can. There, I said it. Normal or not? I've also had the most horrible leg cramps in the middle of the night. Mainly just my calves but they hurt so bad, they wake me up from my sleep and are totally sore for the rest of the day!
What I am looking forward to: I think June should be a good month! My baby shower is going to be on the 26th, and we will start packing our apartment up in June also since we are moving at the beginning of July! I'm almost more excited about moving away from campus than I am having a baby. Almost.
Weekly wisdom: When you're at the doctor for your check-up, don't stare at the girl sitting next to you who is clearly 47 months pregnant and wearing a tight shirt that is completely formed to her mountainous belly. When her baby moves and you can obviously tell which body part it was, you will throw up in your mouth a little bit.
Milestone: I'm registered! I went to Target, and also registered online at Babies R Us! Registering for a baby is WAY more fun than a wedding. If it was pink, I scanned it! Here's to hoping that we have another girl after Presley!
By the way, the jeans I have on in this last picture are my most favorite maternity jeans ever! I'm thinking about going to buy another pair so I can wear them after the little meatball arrives. I hate...HATE the jeans with the panel on them!