Should've cropped my face out in these...but thought I'd give ya'll something scarier than my huge stomach to look at this week.
You're welcome!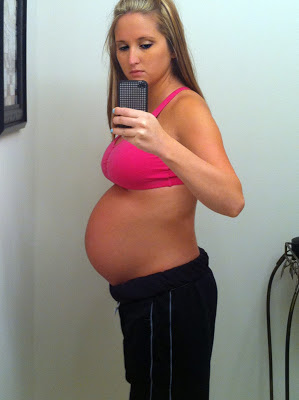 And yes, I am wearing Adam's shorts. I went there.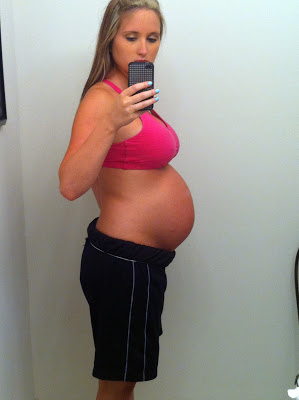 Can we please have a moment of silence while we view what, in my opinion, is a very depressing picture of my poor tum tum.
Who is that skinny bia on the left?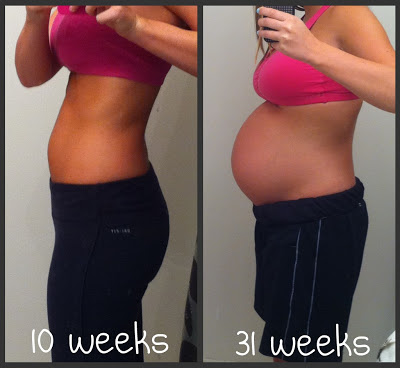 How far along?
31 weeks, which in the pregnancy world converts into 4,308 months.
Total weight gain: Are you ready for this? 20 POUNDS! It's okay, I almost crapped my pants too when I saw the scale...the numbers just kept going, and going, and going up.
**Please note, that I'm just being very dramatic about my weight gain. I know that I'm not a huge ginormous whale that fat, I'm just pregnant. You probably would not believe me if I told you that I freak out at the doctors office about gaining weight, then leave and drive straight to McDonald's, but it's true. So obviously it doesn't bother me too much...**
Stretch marks? Nope. Will I be lucky enough to weasel my way out of this pregnancy without stretch marks? I hope so!
Sleep: I could sleep all day long at this point. Although, I'm getting tired of sleeping on my left side for such long periods of time. I can't breathe if I lay (lie?) on my right side or back so only the left side works for me! I do wake up many times a night and find myself on my back though.
Best moment this week: Pool time! I bought a nice comfy float and got to comfortably lay on my stomach for hours on end! I think Presley likes the pool. She probably didn't like it when I did a cannon ball off the diving board, but hey, I can't be sure that she didn't love it either! I'm so mature! My work also gave me a diaper & wipe shower (along with a few other goodies) and it made me feel very special! I love the people I work with and feel very lucky to have them as friends!
Worst moment this week: (I'm adding this into the weekly survey. It only makes sense.) I've reached the point in pregnancy where I had to go buy new underwear. Fat girl panties. Granny panties. HANES panties (if that tells you anything).
Adam wasn't thrilled about it, but who am I kidding? Like I'm trying to impress and seduce him with hot underwear these days. Isn't that how I got myself here in the first place??
Movement: She never stops! She now pokes her feet out (mostly on my right side) for the majority of the day. It's really weird for me to poke it and she will move it. She is very energetic in there! I was a little hypochondriac-ish the other morning and wondered if it was possible that she was having a seizure or something in there. She was shaking non-stop! I do like to feel her move though :)
Food cravings: Pancakes! I've been craving this for a while now, along with Lucky Charms! Can I get an AMEN for McDonald's Hotcakes?! Oh, yes LORD! YES!!
Gender: Girl-Presley Grace!
Labor signs: None this week, or I don't think so. No peeing on myself this week either. Yay me!
Belly button in/out: Any day now..it's still a little bit in, but it doesn't have much life left in it. This sucker is going to pop any day now!
What I miss: Having energy! I'm so tired all of the time. I feel like a bad wife for staying at home while Adam goes to Barnes & Noble. That's one of his favorite things to do and I'm just a lazy ol' bum these days and have to stay at home :( Poor guy!
Symptoms: Swollen feet, heart burn, aching back, exhaustion, fatness...isn't pregnancy fun??
What I am looking forward to: Moving and getting Presley's room set up! My BFF's mom painted only the most awesome canvas paintings to match her bedding.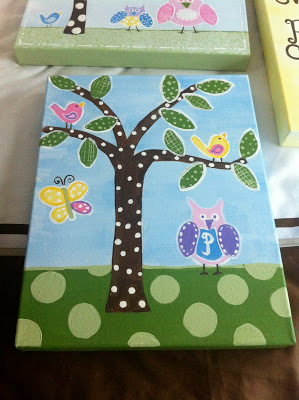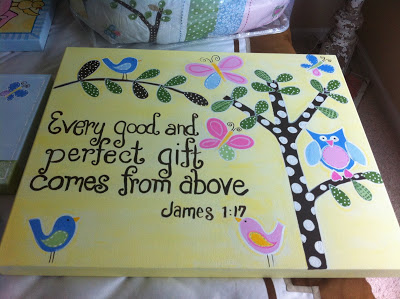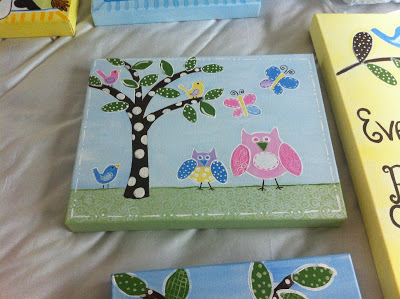 Weekly wisdom: When you go to the pool, don't lather up in baby oil. The skin on your stomach will burn much quicker than the rest of your body! Lesson learned for me!
Milestone: Cellulite has formed on my arm. I consider that a milestone, I guess.
Lately I've been getting very anxious about Little P's arrival. I am SO ready for her to be here, to know what she looks like, and to hold her cute little self! I'm ready to move, have my baby shower, get her room set up, hang up all of her clothes, and have her here!
The moving situation is just that, a situation. Our new apartment will be ready in the middle of June, but our lease at our current place doesn't end until the end of July. Adam has no understanding of why I am Hell-bent-determined to move at the beginning of July but I have put my foot down. He thinks that we would be fine moving at the end of the month, you know, with a one week old baby. But I, on the other hand, want to have things settled in the last few weeks. She could come early and I want to be prepared. The solution to this? It was easy- I told Adam that I was putting my foot down and I was moving at the beginning of July (and that he was more than welcome to come along, or he can stay at our old apartment until the end of July!). We are just going to have to bite the bullet and pay rent at both places. I feel like I've waited long enough and haven't complained about not having everything ready this far into it. My motherly instinct will most likely be full force during the last few weeks and not having anything ready will really ruffle my feathers!
And I don't think anyone wants to ruffle the feathers of a woman who is 9 months pregnant in the blistering heat of July.