**Give me a break, I've been cleaning all day!!**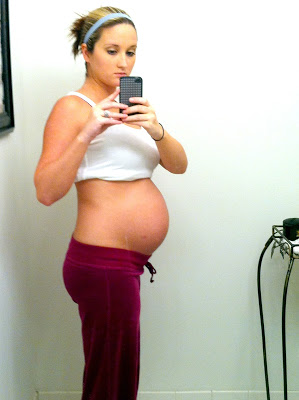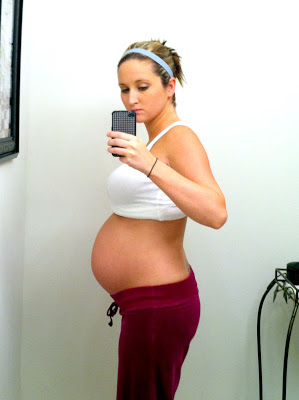 How far along?
30 weeks! We are so close to the end I can smell it!
Total weight gain: Last doctors appointment it was 16 pounds. Tomorrow we will find out though!
Stretch marks? Nope
Sleep: I am back to where I need a nap during the day in order to function. Unfortunately napping at work is frowned upon :(
Best moment this week: Getting to see the little meatball during the 4D ultrasound! I've seriously watched the videos 187 times.
Movement: Definitely. Actually, as I type I am currently being jabbed in the ribs. She's been so active that last night after about an hour of her kicking me non-stop, she finally stopped and I was starving. I refused to get up and eat though because I didn't want her to start beating me up again. Ridiculous, I know!
Food cravings: This week I've been craving any kind of food from a diner! I've had City Cafe and Pam's Diner and completely demolished my entire plate! Fried catfish, mashed potatoes (with gravy, duh), mac and cheese, field peas, and some good ol' corn bread!
Gender: A sweet little girl!
Labor signs: I don't think so. Although at one point I thought I was leaking fluid. Turns out I just peed a little! Good to know, huh?
Belly button in/out: Just the usual half & half.
What I miss: Not having heart burn. I am so tired of eating Tums! That's my only complaint this week.
You're welcome.
Symptoms: I think the swelling has begun. I've had several people tell me that my feet and toes look swollen. It probably doesn't help that I am on my feet a lot at work. My fingers also swell sometimes and I have trouble taking my wedding rings off! Oh, and I think I gained another chin this week. Lovely.
What I am looking forward to: Right now, I am looking forward to dinner (Chipotle, if you must know). Then there's my doctors appointment in the morning and on the 20th I have a diaper and wipe shower at work. That means yummy food!
Weekly wisdom: Don't ever...EVER....EEVVEERR Google hemorrhoids. And please, don't ask me how I know this.
Milestone: Only 10 weeks to go, maybe a little less! This makes me really excited :) The way I look at it, I only have 10 (now 9) more Saturdays and Sundays to be lazy on the couch all by myself. Anyone want to baby sit on the weekends starting in July??