And we all know what happens when I am hungry..I tend to ramble and forget what I am talking about. There, you can't say you haven't been warned! Hmmm..now where do I begin?? (It probably doesn't help that I am watching last weeks episode of Grey's Anatomy...can we say super distracted?!!!)
Adam has been doing MUCH better at the plate..him and the other guys we live with video taped batting practice and the game the other night, so they came home and did a little review of it all. Terry and Chris helped Adam out a little and gave him some pointers on how to improve. Adam didn't play in the first game back but here is a recap of the last two games he played:
May 5th:
1st at bat- Walked (then the next batter grounded into a double play, so he didn't score)
2nd at bat- Singled on a bunt (then Brad Coon hit a grand slam, so everyone scored!!!)
3rd at bat- Singled again (then also scored thanks to the next batter)
4th at bat- Struck out
5th at bat- Called out on strikes
May 6th:
1st at bat- Walked (then scored)
2nd at bat- Flew out to right field
3rd at bat- Singled (then scored)
4th at bat- Struck out
Soooo, all in all he is ding much better! Last night when he flew out to right field, it was soooooo close to being a home run. If the guy hadn't have jumped so high and caught the ball it would have probably been a HR. Adam says that is a "quality at bat"..meaning that even though he was out, it was still a god hit. He isn't playing tonight so we will have to wait until tomorrow to see if he is still feeling comfortable and all the jazz....
(ok, I can't take it anymore..I have to go feed myself...I will return soon........)
I'm back, my veggie corn dogs are in the oven as we speak!
Today is National Prayer Day so Adam, Terry, Matt Brown, and I went to a breakfast at the Hilton where about 150+ pastors, church leaders, and all sorts of other people gathered to pray for several different topics. There was a speaker there who was so completely incredible, we could have stayed all day to listen to his testimony and his story. His name is Nick Vujicic and he was born in Australia...with no arms or legs. He has a little foot-like nub thing that he calls his "chicken leg" and he uses that to do incredible things. He can even type 48 words a minute on the computer!! He shared a little bit of his testimony with us, but you can watch
this
YouTube clip and get a little glimpse. He said today that he had a dream to be on Oprah..so he prayed about it and "Oprahs people called his people" and he will be on the Oprah show soon ( I cant remember when)..he wants to know what she thinks about Jesus...I used to like Oprah..until I watched
this
. I can't wait to watch Nick on that show!***bbbwwahahahahahahaha***
Oh snap....my corndogs!!!!!!!!!!!! be right back.............
Ok, I had a much longer post going on in my head, but I just realized that it's game time! I will post again tomorrow! But, enjoy these pictures until then!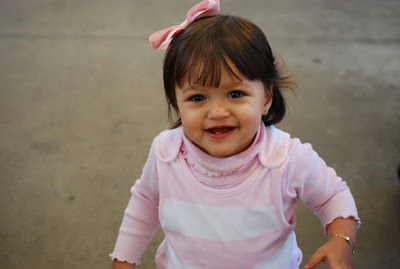 What would a post be without a picture of Sofia??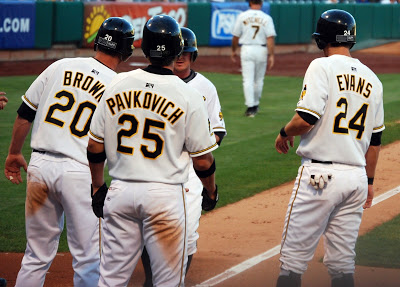 Matt Brown, Adam, and Terry Evans waiting on Coon to touch home, after his grand slam!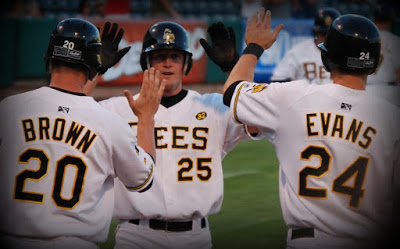 Toasty coming in for the score
Ok, so these last 3 pics should be in reverse order...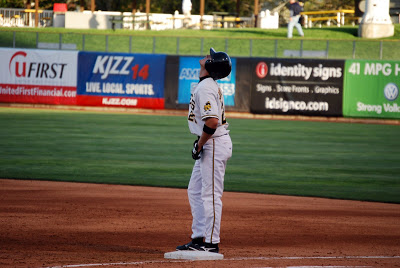 I like to say that Adam is saying,"Thank you sweetbabyJesus that I am on base..."..but he is just looking at a helicopter..